*This is a sponsored post with Best Buy. I have been compensated in the form of a Best Buy Gift Card and/or received the product/service in exchange. All opinions are my own and not swayed by outside sources.*
I am in the market for a new kitchen with all new kitchen appliances. As most of you know, I am a huge Best Buy fan and we redid most of our house with Best Buy appliances, including our gorgeous basement that has a Best Buy in-home movie theater. With me being a major appliance high tech fan, I was so excited to hear about the the new GE Cafe Refrigerator in the all new Café Matte Collection by GE.
Café Matte Collection by GE:
This all new GE cafe series includes a collection of modern kitchen appliances that you can customize in your own kitchen. You, as the buyer, can set it up exactly as you want it! The Modern Matte Black or elevated Matte White finishes set the canvas, and their distinct line of customizable hardware options complete the look that reflects your own personal style. Now you can get appliances in your house that dictate your style rather than letting the stores dictate your personality and taste. Personalization is key when talking about this new line.
What I love about the Café Matte Collection by GE :
The Café brand gives the consumer options to change their handles and knobs to different finishes that brings their vision to life.  You can select brushed bronze, brushed stainless or brushed black hardware choices to customize either matte finish and complement their overall kitchen design. The looks are simply gorgeous, as you can tell from the pictures.
The Matte Collection:
The Matte Collection, which is offered in suites of Matte White with brushed bronze hardware and in a separate offering of Matte Black with brushed stainless hardware, allows consumers to order additional hardware in the store if they choose to re-design the look. The Matte Collection's premium finishes in Matte White and Matte Black seamlessly complement premium cabinetry and flooring, setting the stage for mindful layers of warmth, depth and personality. The soft luster and warmth of the Matte White finish offers a fresh approach to a staple kitchen color. With a luxe look and a smudge-resistant, soft-touch feel, Matte White allows owners to create pops of brightness against dark cabinetry or a seamless blend in an all-white kitchen.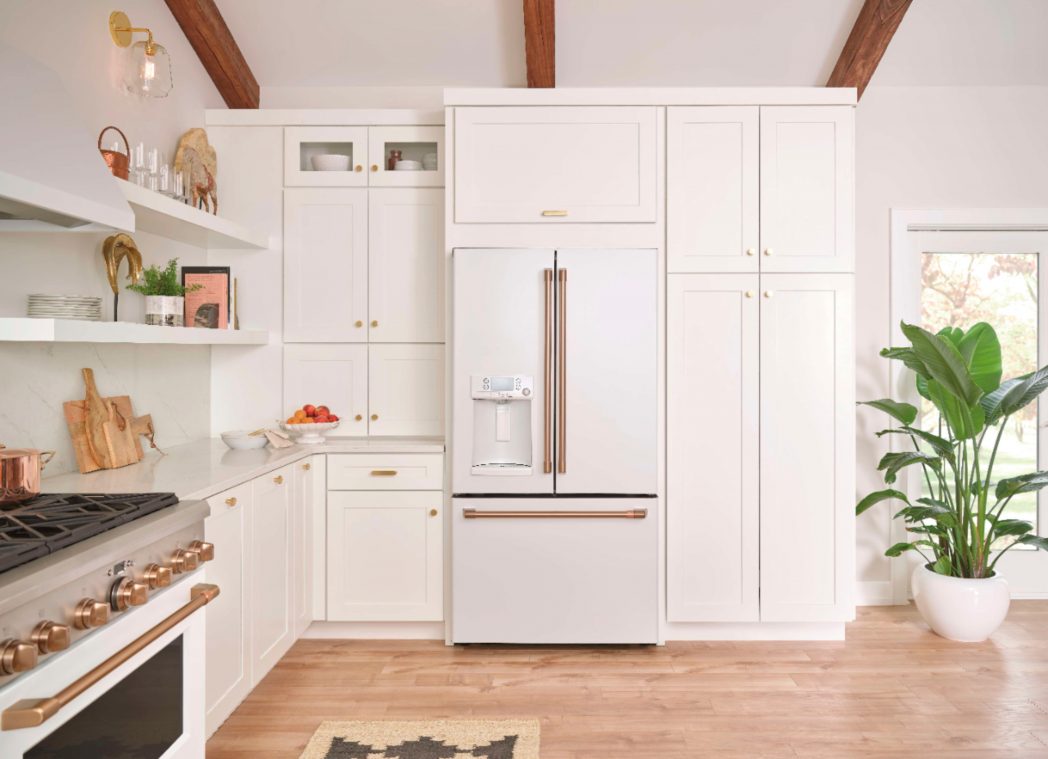 Product Specs of the GE Cafe Refrigerator:
Matte White:
Cooktop: SKU 4208400
Double Wall Oven: SKU 6283638
French Door Refrigerator: SKU 6286372
Dishwasher: SKU 6284425
Matte Black:
Range: SKU 6284213
French Door Refrigerator: SKU 6286370
Dishwasher: SKU 6284428
How would I describe this new collection:
Simply put this line includes high performance features that spark creativity. You can now express your style with customizable hardware and this line brings ultra-premium to the masses. Be sure to check out these customizable appliances today with the Café Matte Collection by GE.