*Dunkin' Donuts is one of my favorite coffee brands and I am so excited to be collaborating again with D+D on Dunkin' Donuts Iced Coffee Day.*

The past few years I was excited to promote one of my favorite days, Dunkin' Donuts Iced Coffee Day and this year is no exception! This year, Dunkin' Donuts stepped up their annual Dunkin' Donuts Iced Coffee day by partnering with a local tradition called Good Night Lights.
When is Iced Coffee Day: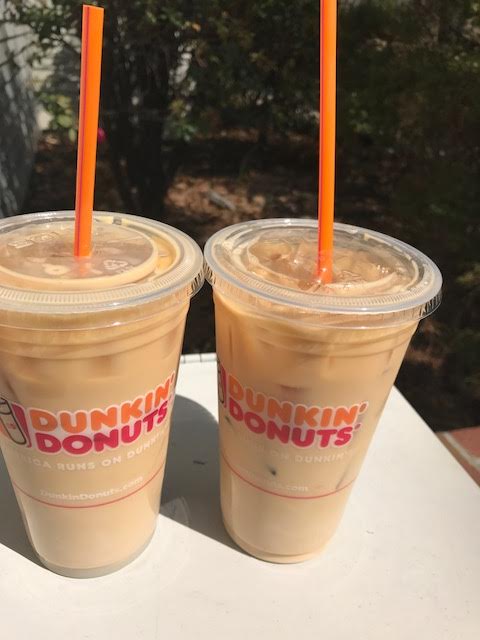 Being held this year on Wednesday, May 23, Iced Coffee Day is Dunkin' Donuts' annual local initiative to support Hasbro Children's Hospital. For every iced coffee sold at Dunkin' Donuts locations in Rhode Island and Bristol County, Massachusetts, Dunkin' Donuts franchisees in the area will donate $1 to the hospital.
The annual event has helped raise well over $2 million since its inception in 2010.
This year, as part of advertising and public relations efforts to support Iced Coffee Day, they partnered with a local tradition call Good Night Lights.
About Good Night Lights:
 Good Night Lights is a daily tradition in which local residents, businesses and law enforcement officials let the kids at Hasbro Children's Hospital know we're thinking of them. Every night, at exactly 8:30 p.m., Good Night Lights participants shine flashlights (and police cars, firetrucks and ambulances turn on their lights) toward the hospital from various locations in downtown Providence. In return, patients in the hospital flicker their room lights on and off and shine their own flashlights from their windows.
It's a well-known tradition that has earned positive press on local and national levels.
I have heard about this tradition for a few years! It always brings huge smiles to the patients in the hospital when 8:30 pm hits and everyone is paying attention to them. It is a tradition that not only brings smiles to their faces, but brings smiles to the entire community as a whole.
How is Dunkin' Donuts merging Iced Coffee Day with Good Night Lights?
Iced Coffee Day is all about helping the brave kids and their families at Hasbro, and so is Good Night Lights.  So, this year, anytime you buy an Iced Coffee at Dunkin' Donuts (**not all locations, but most) starting the first week of May, you will receive a small key chain flashlight that is marked with the date of Iced Coffee Day.
So come 8:30 pm, you can then flash your own flashlight at Hasbro Children's Hospital and bring huge smiles to the kids.
Also all day long on Iced Coffee Day, Dunkin' Donuts will be hosting mini events at various store locations, hoping to drive out crowds to buy Iced Coffees.  They will have political figures, local celebrities, even a Patriot, at their stores working the windows and encouraging customers to take part in the great cause.
Dunkin' Donuts is  concluding their Iced Coffee Day celebration on the evening of May 23rd with a "block party" at India Point Park, where everyone who has received a flashlight, and all their community members, are invited to head on over for a night of games, food and fun, all leading to a HUGE 8:30 p.m. flashlight flash to our friends at the hospital.  Iced Coffee Day is a full day about them, and they want them to see just how many people truly care.
This is an incredible collaboration and I am so happy to be one of the many who will be buying Iced Coffee to help out such a worthwhile cause. There is nothing better than a refreshing Iced Coffee from Dunkin' but now you can buy one, knowing you are helping to make kids' smiles that much brighter! Thanks for helping!
*I am working to help promote Dunkin' Donuts Iced Coffee Day. All opinions are my own and not swayed by outside sources.*