Rehydrate and relax this winter because they're both so important when the weather gets cold. That's especially true in winters like the one we're having right now. I don't know if you've heard about Bombo Genesis yet, but basically, it means this winter is crazy awful. I don't know where they came up with the word, but it sounds like some crazy thing out of my son's favorite show, Dragon Ball Super. What it really means is that winter is coming for you, so remember to rehydrate and relax this winter. It will help keep you and your skin healthy and feeling great.
5 Ways to Relax and Rehydrate Without Breaking the Bank
I want to make sure I stay looking and feeling healthy. We all do. That means staying relaxed and hydrated. Companies take advantage of that. They tell you that their $100 wrinkle cream or their $50 hand cream will do the trick. They also assure you that you need that bazillion dollar relaxing whatever to soothe yourself. Utter nonsense. All you need to do is make smart decisions, get a cozy blanket, and use a great lotion. And that doesn't have to mean an expensive one. Oh no. We don't go for that business in the Pezza house. LOL
1. Drink Lots of Water
The number one way to feel and look healthy is to drink plenty of water. Our bodies are over 75% water, so we need to make sure we're fully hydrated so that our bodies can function at their best.
2. Take Time for Yourself
Relaxation is just as important as remembering to rehydrate. Stress is a killer – literally. Studies have shown that it impairs your immune system AND shortens your life. No thank you. To reduce stress, remember to make time for yourself. A good book, a bubble bath, a great movie – whatever relaxes you – make sure you take time to indulge in it. It's better for you and your family in the long run.
3. Plenty of Fruits and Veggies
Veggies and fruits provide essential vitamins, nutrients, antioxidants, and the all-important, vitamin C. The fiber found in them also promotes heart health and a feeling of being full longer. When you incorporate plenty of fruits and veggies into your diet, you set yourself up for better health. They also add a little extra moisture to your diet – remember that rehydration!
4. A Cozy Blanket
A cozy blanket and sparkling water are the best combination to help you relax and rehydrate. When I'm feeling stressed, I curl up in my favorite blanket and let its warmth soothe away the worries of the day.
5. Rehydrate Your Skin as Well as Your Body
Drinking plenty of water aids in overall health, but don't forget your skin! It's important to rehydrate your skin, especially during the winter. The cold air just pulls moisture away like a giant, icy sponge. That's why I use Lubriderm. It helps my skin stay hydrated, and it doesn't go on with that gross, oily feel. I use it, and I also encourage my husband and kids to use it, as well. Up here in Rhode Island, it's important that we don't neglect our skin!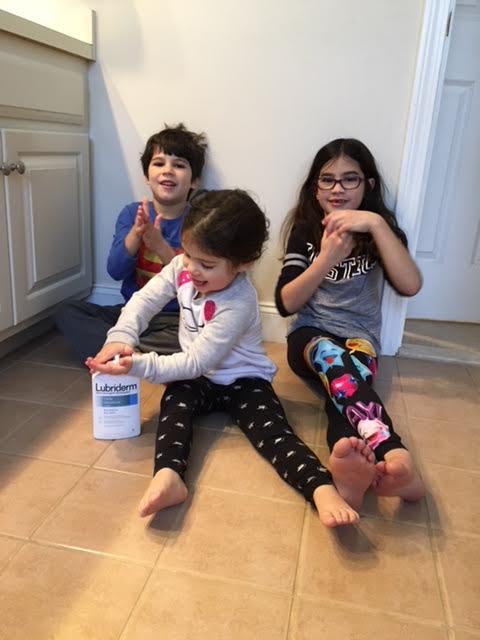 It's easy to do with Lubriderm. Just head over to your local Walmart and check the skincare section. They have wide selection of lotions that help every skin type, so you can get the lotions that will work best to rehydrate each and every family member's skin. And here's a great bonus. The affordability part. You'll be able to pick up Lubriderm lotion at $4.97, a savings of up to 44%, depending on the product you choose.
Relax, Rehydrate, and Feel Better This Winter
Relax, rehydrate, and feel your best this winter. Between colds, flu, and the actual cold – brrr – it's important to remember to take time for yourself to reduce stress and make sure you keep your body and your skin healthy.