*Disney provided me an all expense paid trip to LA for the Star Wars Event. All opinions are my own and not swayed by outside sources.*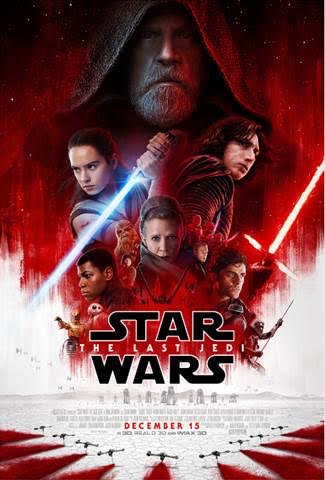 As I mentioned previously, Sunday December 3rd will go down as one of the most memorable days of my life.  This is day the John William's music started playing and the Star Wars: The Last Jedi press conference happened right before my very own eyes at the Intercontinental Hotel in Los Angeles.   They had a huge Star Wars stage set up complete with the magical stars. Once we took pictures of the staging, the press day started.
I did videotape the entire press conference and you can see it here: Star Wars: The Last Jedi Press Conference! While I could go on and on about the day, there are some parts of the press junket that really stood out to me. One of of course, was when they introduced the entire cast and they walked right by me on my right. Seriously right by walked Mark Hamill ("Luke Skywalker"), Daisy Ridley ("Rey"), John Boyega("Finn"), Oscar Isaac ("Poe Dameron"), Adam Driver ("Kylo Ren"), Domhnall Gleeson("General Hux"), Gwendoline Christie ("Captain Phasma"), Andy Serkis ("Supreme Leader Snoke"), Laura Dern ("Vice Admiral Amilyn Holdo"), Kelly Marie Tran ("Rose Tico") and Director Rian Johnson.  Surreal I tell you!!!
Then it was time for the junket to start. While we did not any spoilers (as expected) it was quite endearing hearing all of them talk about the movie and their roles in the movie. These are the top 5 moments that stood out to me and I wanted to share with my readers.
Rain Johnson's passion for this upcoming movie was one of those moments. His enthusiasm for the film and what he created, really made me that much more excited to see the movie next week."It's a second movie in the trilogy and I think we've been kind of trained to expect it'll be a little darker and obviously it looks a little darker. The thing is though for me I loved the tone of the original films and also that J.J. captured in The Force Awakens of fun, and that's like to me in  a Star Wars movie. First and foremost we were trying to make it feel like a Star Wars movie. And that means you have the intensity and you've got the opera, but it also means that it makes you come out of the theater wanting to run in your backyard, grab your spaceship toys and make them fly around, that's a key ingredient to it. So we're going to go to some intense places in the movie but I hope also it's fun, it's funny
2. They then went around the conference asking those who were in the Force Awakens, how this movie feels differently.  Mark Hamill joked that in this one he will have a lot more screen time than the other film. This caused the crowd to go wild, since his role in the Force Awakens was so small.
JOHN BOYEGA: "I just think the story's moving forward. I just feel like J.J. had a blueprint, a foundation of Force Awakens that was pretty good and now it's about moving forward with the story and just challenging the characters and then all the characters are under intense pressure. So it's a time which everyone has their own specific reckoning, and it's all different. It's like a lot going on. I've only watched it once and the first thing is that I want to watch it again because of the amount of information and Easter eggs in there as well."
OSCAR ISAAC: " I think the thing as well is that often with the second chapter in a story of three, because the first one kind of sets the tone and the world and the new characters, introduced them, in the second one you don't have to spend so much time doing that. You can really just delve into the story, into what's happening, like John said, to the conflict of each of the characters. I think what Rian's done so incredibly well is that he's challenged deeply every single character, including the droids with like the biggest challenges they've ever faced, and that's how you're able to really get to learn about them, on all sides of the spectrum, from light to dark. It's like he's found a way to get to the central point of that character and try to challenge them as best as he can. I think it's really amazing what he's done."
DAISY RIDLEY: "I mean, the biggest thing for me when I read the script, because you know, even though you're trying to avoid what people are saying, it's hard to, and because people responded well to John and I as a team. I was a big nervous about not being a team so much in this one. So I think for me personally it was a challenge. The film was a challenge and I don't know what it was like for anyone else, but to be in different combinations of people. So in itself, we're in different situations, we're with different people that we are learning about, we're meeting for the first time, so yeah, felt pretty different for me."
ANTHONY BREZNICAN: "Let's hear from the bad guys. The bad kids always sit in the back at the party. Domhnall, Gwendoline, Andy, any thoughts on just the tone, how this movie distinguishes itself among all the different Star Wars films?"
ANDY SERKIS: "I mean, I was blown away when I saw the movie. I just was so caught up with it, not least because it was really intimate and very emotional and I wasn't expecting that at all.  I know obviously that it was going to go that way, but it was very, very powerful and it touches you and what Rian's done incredibly is make this dance between these great kind of epic moments and hilarious antics, literally flipping on a dime and then going right into the heart of these beautiful characters. And I think that was for me,  that was my takeaway, it was just an extraordinary viewing."
GWENDOLINE CHRISTIE: "I was delighted by the film.  I think the reason why it's resonated with us all so deeply is that it's our foundation story of good against evil, and where that balance is, and how we see elements of characters we've never seen before, things that can be unexpected. But there is something about this film and I think it's because the world that we live in is a changing and evolving place, that it retains the simplicity of those elements, but it really resonates with what it is to follow your own human dark narcissistic tendencies, where that will take you, and I love that, and it's done so beautifully aesthetically too."
3. Rian then talked about the visual effects and we walked away with the notion, that this might be the best special effects out of any Star Wars set.
"My cinematographer Steve Yedlin who I've been best friends with since I was 18 years old, we met in film school, and so to be standing next to each other on the Star Wars set was pretty surreal.  I think Empire is just the most beautiful. I mean all the films are beautiful. I think for my just tastes, I think the cinematography in Empire is the most gorgeous of the whole series. And so Steve and I looked at the lighting in that. It's pretty daring in terms of how dark they were willing to go with some of it – literally dark, and how gorgeous they went with some of the choices they made with the shaping of the lighting. But then in terms of like an actual visual aesthetic I made a choice very early on that I thought, well, I can either try and kind of copy my idea of what the original movies did, which was much more of kind of a formal, the camera didn't move a ton and it was a much more formal type visual aesthetic. Or I realized, we're going to take visual cues lighting wise and design wise from the previous movies, but I need to just shoot this movie the way that I would shoot a movie, because at the end of the day, if I'm not engaged with it, and I'm not trying to tell the story the way that really makes me excited, then it's not going to be up there on the screen. So I kind of cut myself loose camera movement wise and shot wise from trying to imitate the past and just try to tell the story as excitingly as I could up on the screen."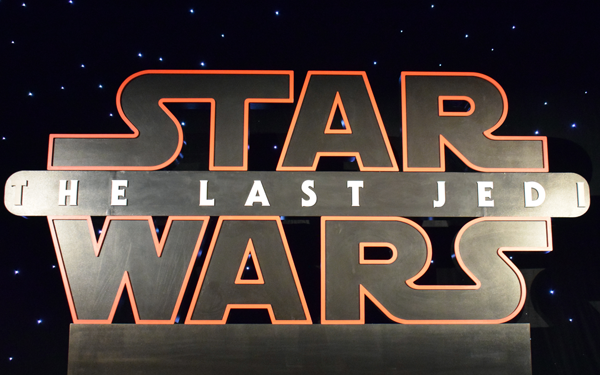 4. Ladies and minorities sure represent in The Last Jedi,which I loved to see and hear about!
KELLY MARIE TRAN: "I think that it feels like both an honor and a responsibility at the same time to be cast in such a strong female role. I feel like from the beginning when I initially found out I got this role, I just felt like I wanted to do the whole thing justice, and I'm so excited that guys, the girls in this movie kick some butt. Every single one is so good, and I can't wait for everyone to see it."
LAURA DERN:  "I just want to pay tribute to Rian for being one of the most brilliantly subversive filmmakers I've ever been able to bear witness to, and in the case of the look of my character, I was moved by the fact that he really wanted her strength to first lead with a very deep femininity and to see a powerful female character also be feminine is something that moves away from a stereotype that's sometimes perceived in strong female characters must be like the boys. I thought that was a really interesting choice to get to witness."
GWENDOLINE CHRISTIE:  "I was so delighted. I wasn't cast in the first Star Wars film yet when I heard about the casting, and I was utterly delighted to see that there was a more representative selection of actors that were going to be in these incredible Star Wars films, and that has continued. Everything that my amazing colleagues say is absolutely right. You get to see women that are not being strong just because they're acting like men. They're doing something else. And also you're seeing a developed character or at least a developing character, that's showing some complex character traits. And I'm just delighted about that. I'm delighted that something as legendary as Star Wars has decided to be modern and to reflect our society more as it is."
5.  Carrie Fisher loss leaves a dark hole and is always thought about. They talked about keeping her legacy alive and how she was such a pivotal part of the galaxy.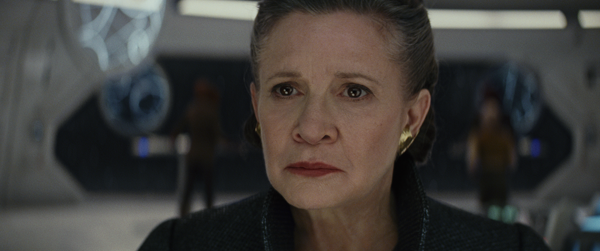 GWENDOLINE CHRISTIE: "She was very significant because I was first shown A New Hope when I was six, and I remember thinking, wow, that character's really different. I watched TV and film obsessively from such a young age but it stayed with me throughout my formative years. She's really smart, she's really funny, she's courageous, she's bold, she doesn't care what people think, and she isn't prepared to be told what to do. And she doesn't look the same as a sort of homogenized presentation of a woman that we had been used to seeing. So that was really instrumental to me as someone that didn't feel like they fitted that homogenized view of what a woman was supposed to be, that there was inspiration there, that you could be an individual and celebrate yourself and be successful without giving yourself over, without necessarily making some sort of terrible, huge compromise. So it was a big inspiration for me. And to play a character as well from what we've seen in The Force Awakens, I was very excited when I was shown just the basic element of the costume, and here we were seeing character whereby a woman,  her femininity was not delineated in terms of the shape of her body, in terms of her physical attractiveness. Those elements, that weird random group of elements which we're born with in some kind of odd lottery and then we're judged on in society. And I was just delighted to be able to have that opportunity."
LAURA DERN: "Well, endless thoughts and also you know, a profound impact that she made on me as a girl, and spoken so beautifully by Gwen, so I'll just speak to this present experience, to say that as we always had with Carrie, not just Leia, her wisdom.  People speak about people who are brave or fearless, but beyond that, I've known luckily a few people that would hold those descriptions, but not that they would be without shame, and that's what moved me the most about the icon she gave us, but also what she gave us individually and personally which is to Carrie, who she was so directly and to be without shame, and to share her story, and to expect nothing less from any of us. And the privilege of watching how Rian has so beautifully captured all of that and her grace in this amazing, beautiful, pure performance, but also I think she found an equal irreverent subservice and they had this dance that gives us this performance that I was just so moved by."
DAISY RIDLEY: "And I think Carrie bringing up a daughter obviously with Brian, bringing up a daughter who is all of those qualities and then some, in this world, if that's what she did, just her being her, I think it speaks volumes to what she did as her in the spotlight and also her as Leia."
KELLY MARIE TRAN: "I agree with everything that was said. I think that something about Carrie that I really look up to is, and something I didn't realize until recently, was just how much courage it takes to truly be yourself when you're on a public platform or when possibly a lot of people will be looking at you, and you she was so unapologetic and so openly herself and that is something that I am really trying to do, and it's hard. And just like Daisy said, like Laura said, like Gwendoline said, I think that she will always be an icon as Leia but also as Carrie.  And I am so fortunate to have met her and I think that she will really live on forever."
Star Wars: The Last Jedi opens this Friday, December 15th! Be sure to get your tickets today!