*I worked with Hershey Park and Hershey Lodge. All opinions are my own and not swayed by outside sources.*
One of my favorite family locations any time of the year is Hershey Park. The minute my kids hear that we are going to Hershey they scream from excitement on top of their lungs. If you have never been to Hershey Park, it is absolutely essential you go as it provides days of entertainment for the youngest to the oldest member of your family. If you have been, well you already know how awesome it is!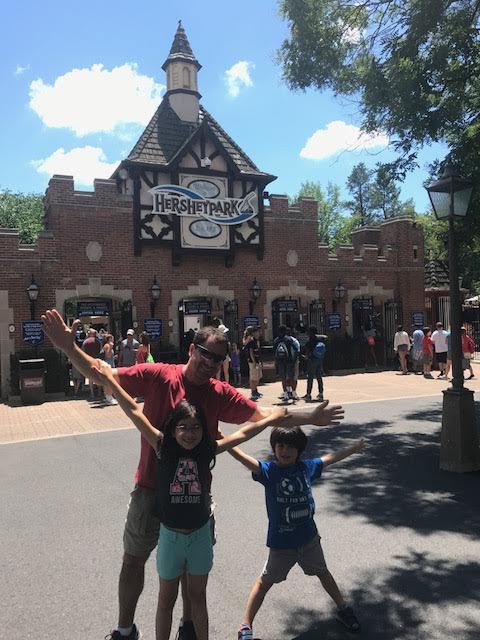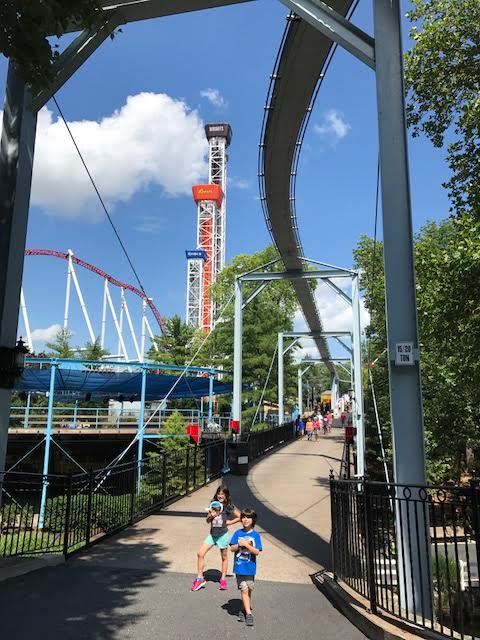 My family visited Hershey Park early July and it was a magical experience. We checked into the Hershey Lodge mid day and decided to hold off going to the park because the Lodge has SO much going on and the kids didn't want to miss a second of it. After getting my chocolate martini (it is a must), we all changed into our swim suits and headed to the Hershey's Water Works.
Hershey's Water Works is a 30,00 square foot water park of splashing good times including Twizzlers Twists water slides and Reese's Water Walk! My kids favorite is the water walk because they love to see if they can get to the end without falling into the pool. My husband and I were both unsuccessful but both kids were able to do it. They put us to shame LOL! The kids went to enjoy the many other interactive water features including the zero entry pool, sand castle spray zone, lighthouse tipping bucket, basketball hoops, and more! While they were doing this, mom and dad had a chance to relax in the humungous hot tub. I brought my book in there and it was pure heaven. After spending 4 hours there, we then headed to dinner.
Hershey Lodge has many dining options depending on what you are in the mood for. We decided to head to the new restaurant, Fire and Grain. The menu is scrumptious and the drinks added the perfect complement to the meal. The kids wanted the basic Mac and cheese but they remarked they loved it, which is a rarity with my kids. They always complain if it is not mom who is making the Mac and cheese. I had the braised ribs and my husband had a pasta dish. All were perfectly plated and delicious!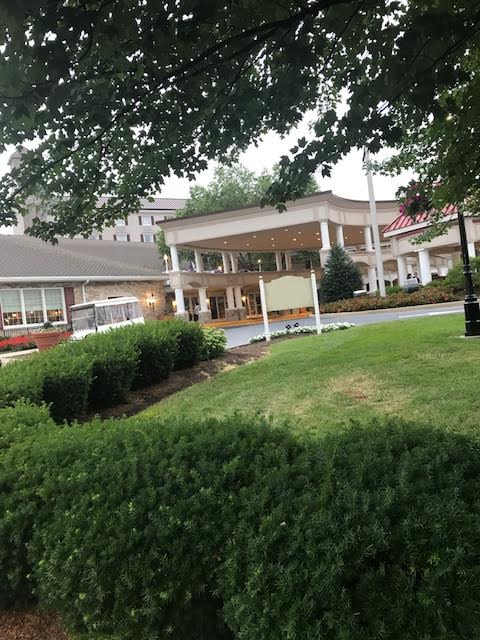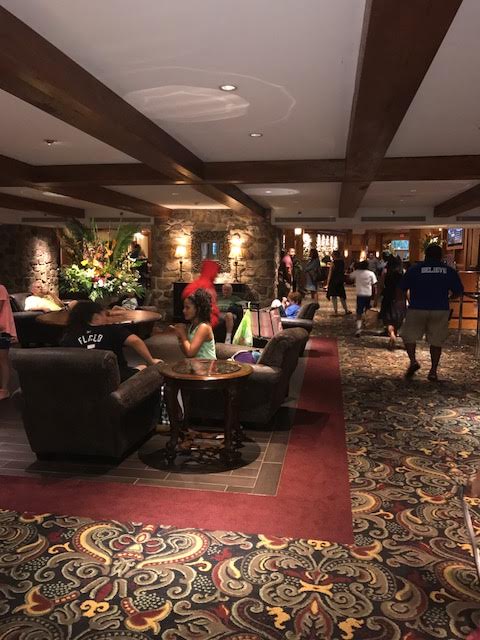 Along with Fire and Grain, they also have The Hershey Grill, ForeBay, The Bear's Den, Cocoa Beanery, and Cocoa Cabana. I have tried most of these places and they are were great. Every morning I stopped at the Cocoa Beanery for my cup of Joe and a pastry. On our last morning, we ate breakfast again at the Fire and Grain which has an awesome buffet.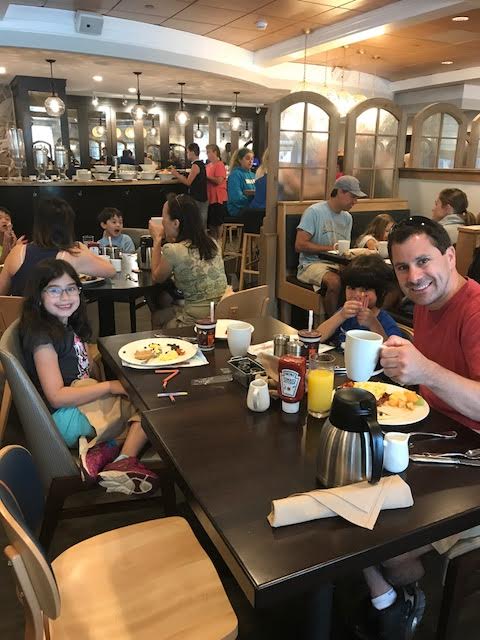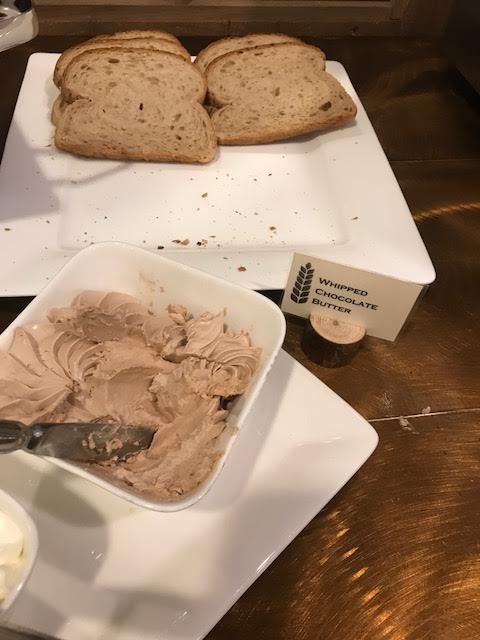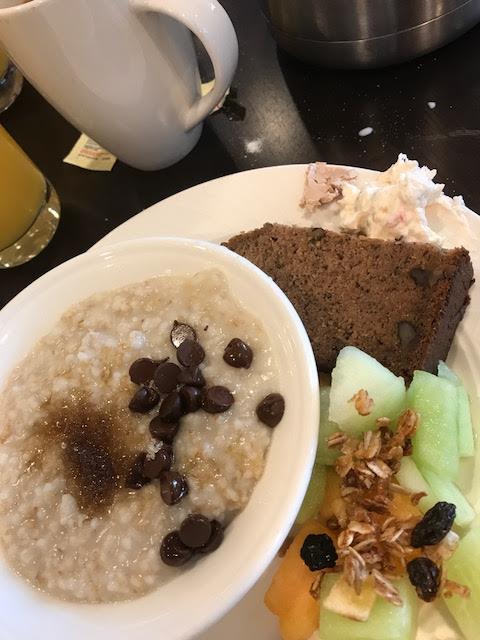 I will make a note that the Hershey Lodge is fantastic dealing with kids and food allergies. My son has a wicked peanut allergy and they made me feel totally confident and comfortable during my entire stay. The chef came out to talk to us and they made sure none of the food was cross contaminated. A true win on Hershey Lodges part if you ask me!
The next morning we got up and went to  Hershey's World of Chocolate. At Hershey's World of Chocolate, you are able to go on a free chocolate ride that explains how they make chocolate and of course the end result is everyone gets chocolate. There is also other paid options of making your own chocolate bar, a 4D movie with Reese and Hershey, and chocolate tastings. I highly recommend visiting the Chocolate World if you love chocolate. If you love chocolate as much as me, you will not want to leave. That is the only problem! HAHA!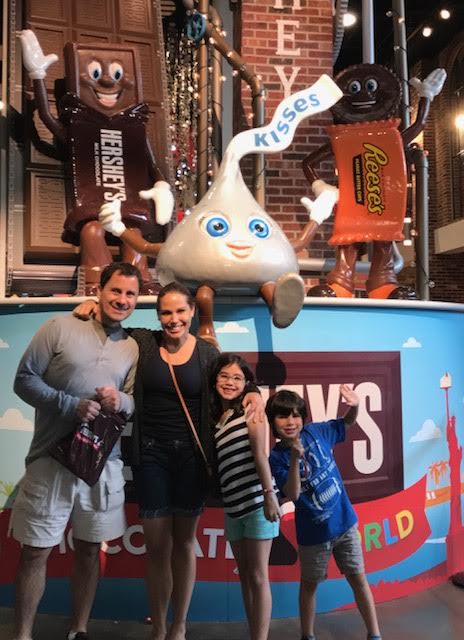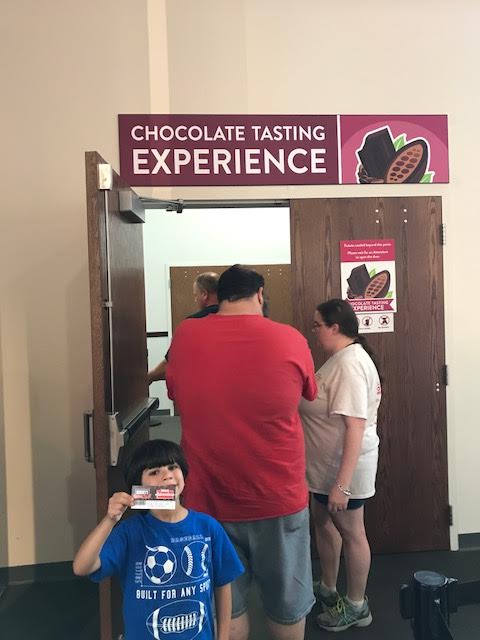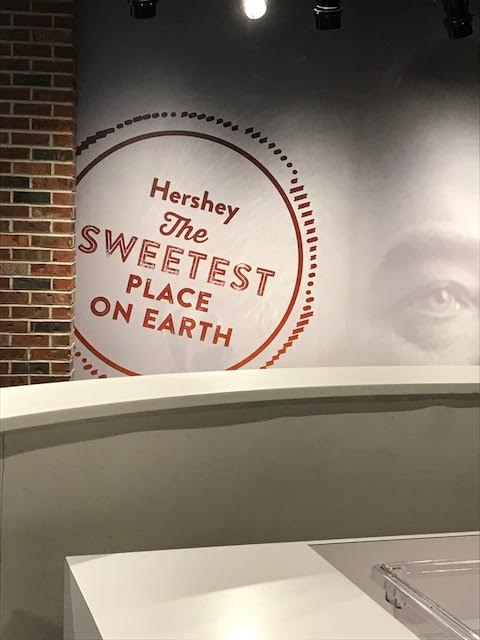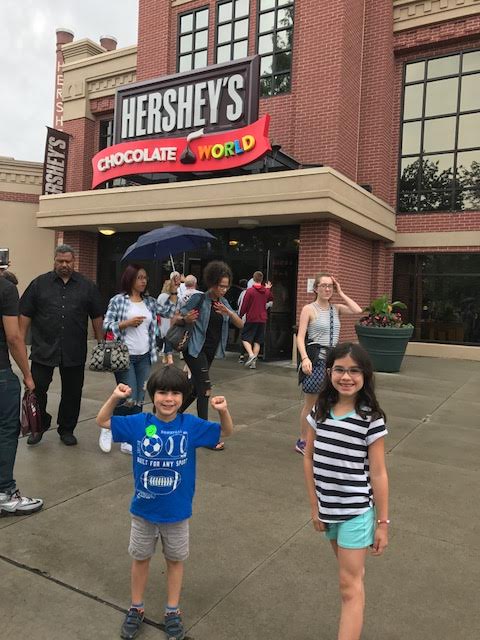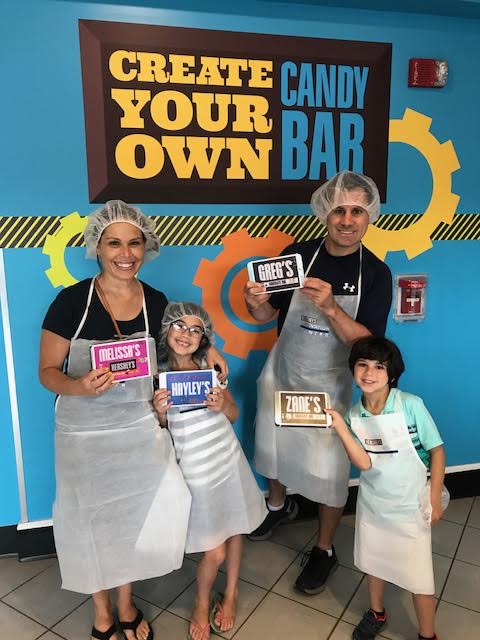 Then it was time to do Hershey Park! This year Zane was a Reese's and Hayley was a Hershey's. If you are wondering what that is, that has to deal with the awesome way Hershey Park deals with kids measurements. There are measuring stations throughout Hershey Park where they measure them and then they receive wrist bands which easily identifies which ride they can go on.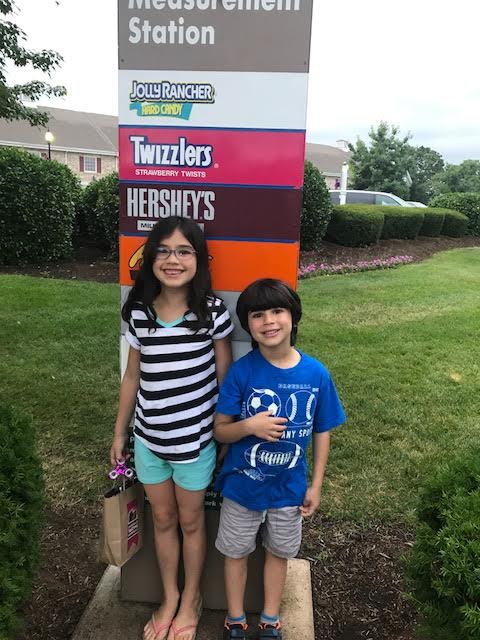 Our first family ride was the Comet. We all love that ride so much that we rode it 4 times in a row- yes 4 times! The Comet is a classic wooden roller coaster with twists and turns.  We all especially love the first drop  of the ride which is one of my favorite drops of any wooden roller coaster I have been on.
After this we stayed in the beginning part of the park, and went on the swings and the Sooperdooperlooper. This is the first looping rollercoaster on the East Coast and is plain ole' fun! As you enter the ride, you are buckled in with harnesses and are immediately sent through the loop. This is a great ride for those who have younger kids who are being introduced to roller coasters. Hershey Park has some really amazing rollercoasters but can be scarier for those who don't like the thrill rides. However, the Sooperdooperlooper is a great starter coaster.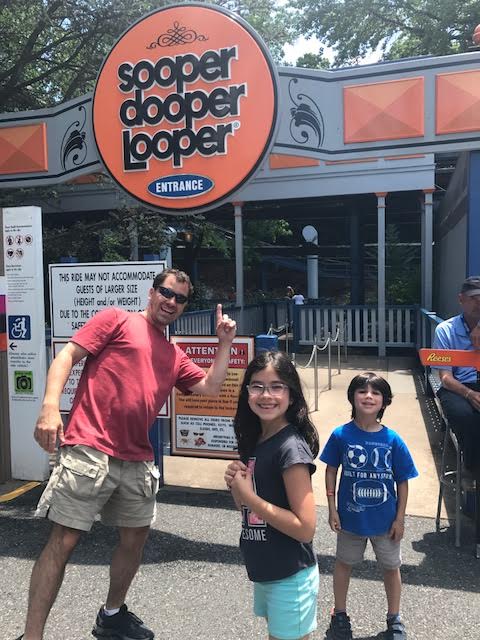 Hershey Park has 13 rollercoaster throughout their parks. Some of them my husband went on without me because they are wicked high and go quite fast. I tend to get chicken on some of these but he absolutely LOVED them and he told me that Hershey Park has some of the greatest rollercoasters he has ever been on.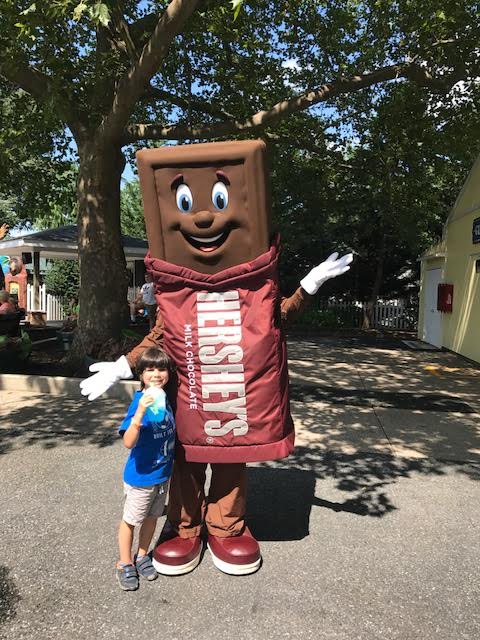 Another roller coaster we all went on was the Laff Trakk which is an inside roller coaster. Definitely expect lines for this ride so my suggestion is to very early in the morning to not wait a long time. However, if you need to wait, it is so worth it. They do a great job entertaining you waiting for this ride with fun mirrors and entertainment.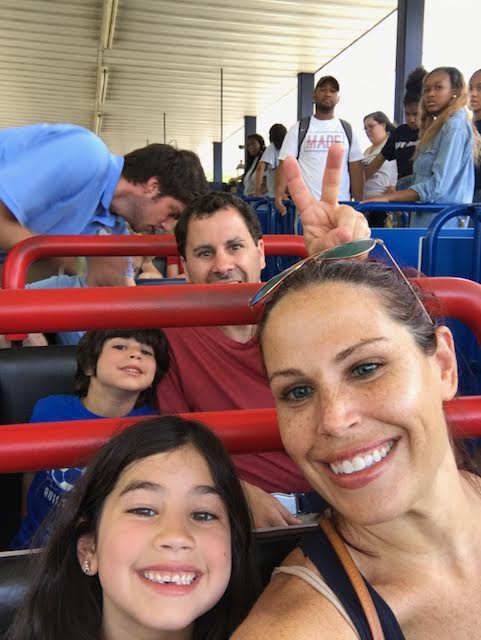 We spent about 9 hours at the park that day and we can easily have done another 2-3 days without ever getting even slightly bored! This park is HUGE and has something for everyone! It is one of my family's favorite parks to visit and we always create such amazing family memories every single time we visit.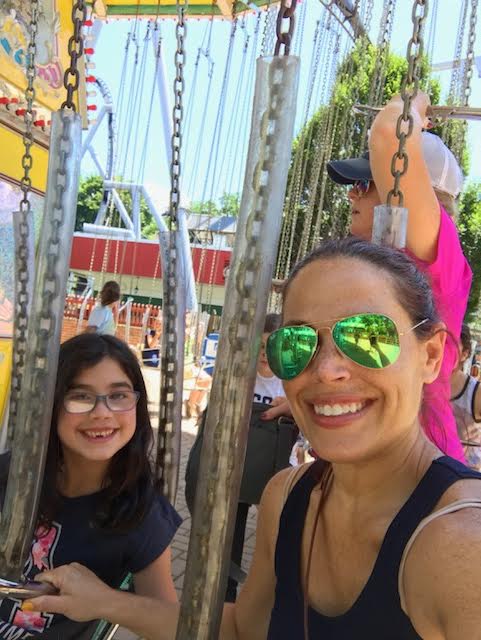 If you are looking for great family get away, check out Hershey Park and Hershey Lodge today! You can thank me later:)!