Quilo is a new kind of fan designed to keep us cool and comfortable through the heat of the summer. This combination fan and evaporative air cooler gives us the best of both worlds by circulating air and creating a cool, moist breeze. It's all a part of the unique way Quilo works to bring us a nice, cool room that keeps us feeling comfy even when the weather gets stifling. It's going to make summer so much better for all of us!
*This is sponsored with Quilo. All my opinions are my own and not swayed by outside sources.*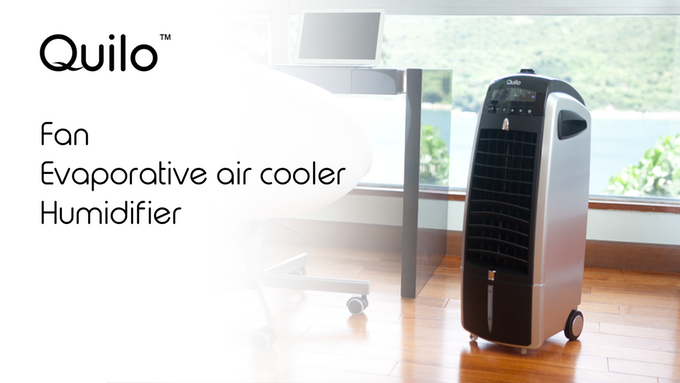 Cool as a Cucumber with Quilo
So what exactly is Quilo? It's a combination fan and evaporative cooler, but what does that mean? We all know what a fan is, so I'll skip to the evaporative cooler portion. Evaporative air coolers, also known as swamp coolers are designed to cool the air in a room using water evaporation. They usually don't work very well AND they are big, bulky, noisy, and generally smell moldy. They're one of those inventions that were great at the time but don't hold up anymore. Quilo is unique because it takes the good part of an evaporative cooler – the cool, damp air – and combines it with a powerful fan to cool an entire room AND give us a nice, cool breeze while it does it. In fact, it lowers indoor temperatures by 15 to 30 degrees!
If you already have a good AC setup, you might be wondering why this would be of any benefit to you. Here's the thing. It will save you money while it keeps you cool! This device takes less energy to operate than charging an iPad, which means you can keep the air set a bit higher and put the Quilo in rooms that you'd like to stay cool. The turns into cool rooms at less cost to you, which we all love. You can also set the machine for use as a humidifier in the cold months to keep your home from becoming boned dry.
Benefits of Quilo
Lowers indoor temperature by 15 to 30 degrees
Easy to use
Dedicated ice compartment to cool room even more quickly
Use as humidifier during the winter
Eco-friendly – Uses no refrigerant gas and produces no CFCs
Uses less electricity than charging an iPad
Minimalistic, full-function remote control
Universal voltage compatibility – Use it anywhere in the world
Save money by cooling specific rooms and leaving the AC turned up just a bit
Add water or ice in the summer and set to high for cooling
Add water and set to low in the winter for humidification
Kick in on the Quilo Kickstarter
Quilo hasn't entered mass production yet, but they're rolling out some models to get the word out and secure more funding for their Kickstarter campaign. I've already ordered one because I can see how this bad boy will help me keep cool in the summer, keep the air humidified in the winter, and save me money in the process. I'm excited about Quilo, and I hope you are, too. Head over to their Kickstarter page and order your Quilo today. If you love it (and I think you will) spread the word, so they can get even more traction.