*Disney/Marvel provided me an all expense paid trip to LA for this event. All my opinions are my own and not swayed by outside sources.*
There is a new show in town that will be airing every Tuesday night at 8 PM EST on ABC with the preview episode airing tonight at 9:30 PM EST. That show is Downward Dog and it is one show you do not miss out on watching because it is hysterical! When I first heard of Downward Dog, I thought to myself a show about a man voicing a dog. Hasn't that been done before? Well I was completely wrong because there truly has never been something like this done before. The show is absolutely ingenious in every sense of the word.

Downward Dog is a show about human relationships but seen through a dogs eye. It will make you see things through a different light and perhaps give a fresh prescriptive on this crazy thing we call life. This new ABC comedy follows the day-to-day life of Nan (Emmy and Golden Globe-nominated Allison Tolman, "Fargo"), as told by her increasingly lonely and philosophical dog, Martin. 
We had the chance to sit down with Allison Tolman and Samm Hodges, who voices Martin, when we were in LA for the Guardians Event.  Here is what we learned from the show from these two actors.
ABOUT MARTIN, THE DOG:
Martin is a hound mix from a shelter in Chicago called Paws Chicago.  He is a rescue dog and had only been trained 6 weeks prior to making his debut on Downward Dog.  He had some anxiety from being a rescue dog but he was quickly trained and loved as family on set. After watching Downward Dog, I can tell you that Martin is just the cutest and funny! You will be wanting to take him home to your own family after watching him. He might be one of the most adorable dogs I have ever seen!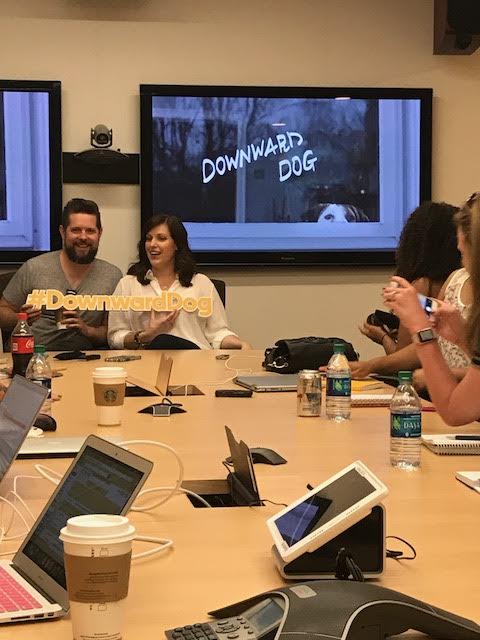 HOW SAMM HODGES GOT INVOLVED:
Samm Hodges not only voices Martin but he is the co-creator and executive producer of Downward Dog. He told us he, as well as the other co-creator, Michael Killen, were both commercial actors living in Pittsburg when they started working on this series four years prior. He told us Michael was very versed with animals and how to make animals talk. At first Samm said he was not quite sure about a talking dog, and voicing him, but he quickly became in love with the concept.
"The shorts of this series are beautiful and they are what sold me on the project. It's like sweet and down to earth and kind of indie. And then I was really into it. So, that's kind of how it came about."
" And then they wrote this great script and they had these awesome shorts to kind of back it. So, when they decided that they were going try to make it into a television show they had these shorts. We had a lot of interest. It was definitely a big project bringing it from the web series to the show."
"I think in the shorts it was about how a dog's view of his own life. And then we realized a dog has such a intimate view of the life of the owner. So it became much more about the character of Nan and him as an angle on her life because he sees all these moments that no one else was there and he's there for her in these moments." – SH
HOW PEOPLE WILL RELATE TO THIS SHOW: 
Allison told us all the animal lovers are really going to connect with this show and I definitely agree with her on this! While there has been dog voicing shows in the past, there has never been one that focuses on the relationship of man and dog and this relationship is sometimes one of the most important in someone's life.  Animals take on a very important relationship in one's life and now Downward Dog is showcasing this relationship.
" And I think that's what really special about it. It's a love story that I think is universal for a lot of people, because a lot of people are pet owners and love their animals but it's not something that we really focus on. We focus on romantic love or familial love, but nobody really talks about what a profound thing it is to love an animal."- AT
Samm Hodges told us he does not have a dog at home but he grew up with dogs, and they were his only source of solace.
" I think Martin's character is really based on what a dog's experience is. Like dogs experience a lot of emotion and a lot of really profound things they can experience, we just found out recently. It's less asking what is your dog thinking and more saying like what if your dog had human anxiety and existential angst."- SH
HOW MANY EPISODES DID THEY FILM:
They filmed eight episodes which is what they wanted. They wanted it to not become too episodic so they were hoping for a short season order.  They also wanted more of a "Netflix" type feel show on ABC.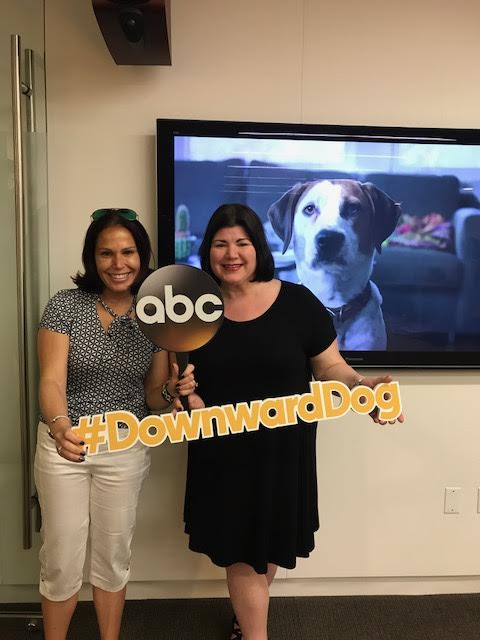 HOW DO THEY GET MARTIN AND SAMM TO PERFECT THIS CHARACTER:
Samm told us it is all done in visual effects.
"The difference is that usually they'll replace the entire muzzle, a lot of the face, with CGI. In this case, it is done in post-production, but it's a lot more naturalistic. They would set up the shot and then they would have him sit there and the trainer would be behind the camera and they'd try to make him look over here. Let's try to make his ears move.  And then after the fact, Samm goes into a voiceover booth and puts a mo-cap stuff on his face so they can capture his entire muzzle."
This is one show that will tug at your heart emotionally all while making you laugh hysterically! Be sure to tune in tonight for the preview episode at 9:30 pm followed by the regular time slot starting on May 23rd at 8:00 pm EST on ABC. Follow Downward Dog on these social channels: Website, Facebook, Twitter, and Instagram.