Household safety is important for everyone, but it's even more important for those with small children. We often thing of things like safety covers for outlets and baby gates when we think household safety, but there's more to it than that. If you'll remember, I talked about keeping OTC medications out of reach of children back in December. Because we're in the middle of National Poison Prevention Week, today we're going to talk about keeping other dangerous household items out of inquisitive little hands.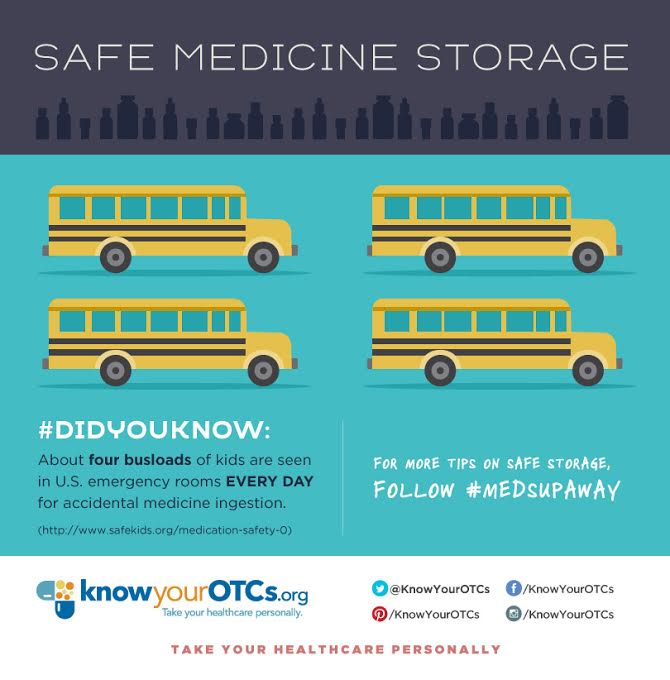 *This is a sponsored post with KYOTC. All my opinions are my own and not swayed by outside sources.*
Household Safety – How to Keep the Kids Safe
March 19-25 is National Poison Prevention Week, and if anything deserves its own week, it's this. Did you know that over 90% of poisoning occur inside the home? Most are treatable and preventable. Preventable is the key phrase here. That's because, according to SafeKids, half of the 2 million poison control calls in 2011 were for exposure to things in the household among kids 5 years of age and younger. Those are scary numbers. That's why I've partnered with the CHPA's educational foundation's Up & Away program to raise awareness around the most common poison sources. So let's talk about what we can do to further make household safety a priority
Teach the Kids About OTC Meds
I know we already covered this, but it bears repeating. Teach your children that OTC meds are not candy and that they should only take medications given to them from Mom, Dad, or another caregiver. In addition, keep medications in a medicine cabinet where little ones can't reach.
Laundry Items
These days, many of us use detergent pods. They are simple and convenient. Unfortunately, they are also usually colorful and hard for small children to resist. Even when we teach them that these pods are not candy or toys, the temptation can be too much. Furthermore, if we are using a powder detergent, the box can get knocked over and cause inhalation of the powder. There is also the real possibility of children spill bleach and getting it onto their skin or in their eyes. For all of these reasons, it's imperative to keep all laundry items well away from the kiddos. Store them in a high cabinet or in a cabinet that you can lock or otherwise secure.
Cleaning Items
Just like laundry detergents and bleaches, kids can get into all sorts of trouble underneath the kitchen and bathroom sink. If you have small children be sure to secure the cabinet doors with childproof latches to ensure the kiddos don't get under there and start playing around with bottles and sprayers containing cleaning agents. These could get in their eyes or on their skin and cause serious injury.
Carbon Monoxide Detector
Carbon Monoxide is a colorless, odorless gas, and it is deadly. Having working carbon monoxide detectors in the home is just as important as having smoke detectors. Just like smoke detectors, be sure to check your monoxide detector batteries and check the unit itself regularly.
Poison Help Line
The Poison Help Line number is 800-222-1222. Keep it in a conspicuous place at all time so that you can use it if needed. Also teach your kids about the number the same as you would 911, so that they can use it if needed.
Make Household Safety Fun
You can make teaching household safety fun for your kids by entering them in the annual poster contest held by the National Poisoning Prevention Council. It's a fun way to teach kids from kindergarten through 8th grade all about household safety and promoting the prevention of unintentional poisoning. You can find the guidelines for the contest here and the poster contest entry form here.
Household safety is key to the safety and well-being of our family members. So be sure you teach your kids all about it and keep all chemicals and other dangerous substances and items well away from them. For more information about household safety, visit the Up & Away page.