*Disney/Marvel provided us an all expense paid trip to visit the set of Guardians of the Galaxy Vol. 2 in Atlanta. All my opinions are my own and not swayed by outside sources.*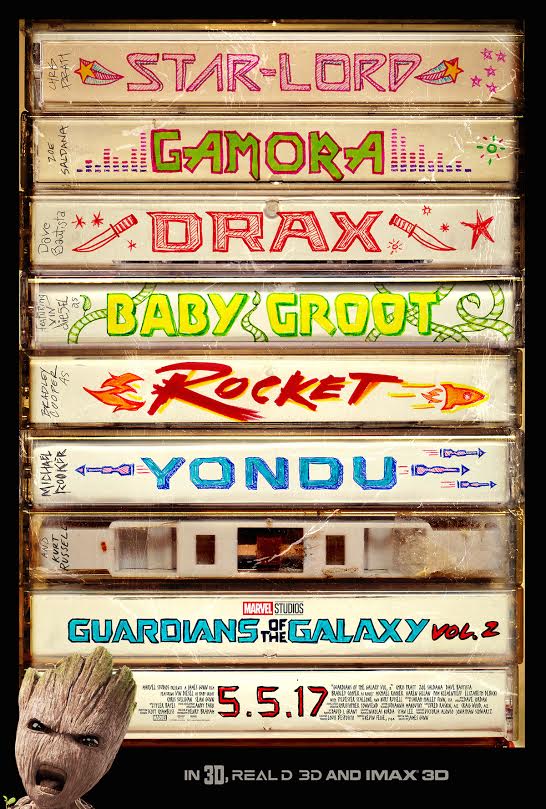 So by far the coolest thing EVER happened to me in May of 2016. I had the chance to go to Pinewood Studios in Atlanta for a secret set visit for the new Marvel film, Guardians of The Galaxy Vol. 2. in theaters on  May 5th!  To say it was awesome is a serious understatement. I still can't believe I got to meet so many of the fabulous actors (in full costume by the way) and see a scene take place right before my very own eyes. During this upcoming week, you need to make sure you bookmark my blog because you will see many set interviews and you never know who you will see! I will keep you in the dark about this so you keep coming back. LOL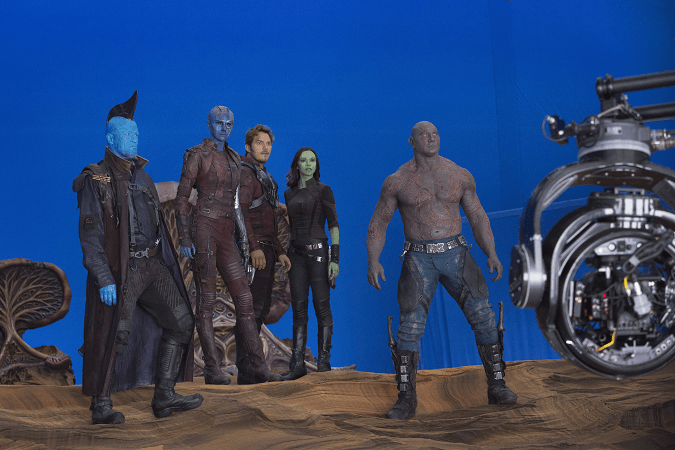 GUARDIANS OF THE GALAXY VOL.2
Set to the all-new sonic backdrop of Awesome Mixtape #2, Marvel Studios' "Guardians of the Galaxy Vol. 2" continues the team's adventures as they traverse the outer reaches of the cosmos. The Guardians must fight to keep their newfound family together as they unravel the mystery of Peter Quill's true parentage. Old foes become new allies and fan-favorite characters from the classic comics will come to our heroes' aid as the Marvel Cinematic Universe continues to expand.
Last night during the awesome Super Bowl (GO PATS), they showed us all the extended trailer. If you missed it, do not worry since it is right here!
Today I will telling you more from producer Jonathan Schwartz along with learning about props from Property Mater Russell Bobbitt. Before I got any further though, I have to tell you all that I visited the actual wardrobe trailer for this movie. It was so AMAZING seeing all the wardrobes choices for all the characters. The real leather and the heaviness of these outfits were extraordinary especially Yondu's jacket.   I am so excited to see the movie and see all these fabulous costume choices on them. INCREDIBLE!
 RUSSELL BOBBIT:
As I said before we had the chance to meet with Russell Bobbitt who is the property master and head of all things props in Guardians of the Galaxy Vol.2.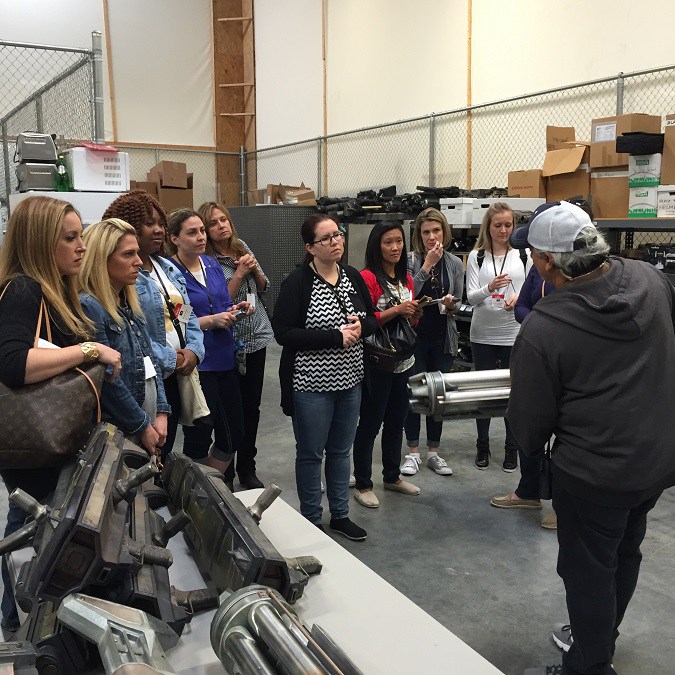 One of the coolest memories from that day was when I could touch some of the props that were actually used in Guardians of the Galaxy Vol 2. including Baby Groot and Rocket! I mean how AMAZING is this:
I loved getting a tour around the whole prop room from Russell Bobbitt. He has done so many props for amazing Marvel movies like Iron Man 1,2,2, Thor, Captain America, and more.
"I have to figure out what kind of props the actors need and where they fit in the universe, depending on the universe that we're in. And so I'll go over the script and sort of make a big list of everything I think should be in the movie and then I think outside the box and I'll do the background stuff, like the background alien person walks by, what's he gonna have in his hand? We design, manufacture and engineer everything basically from scratch on a movie like this because we're in outer space and there is no outer space prop rental house or an outer space store that I can go to and say I'd like, you know, 800 outer space blasters."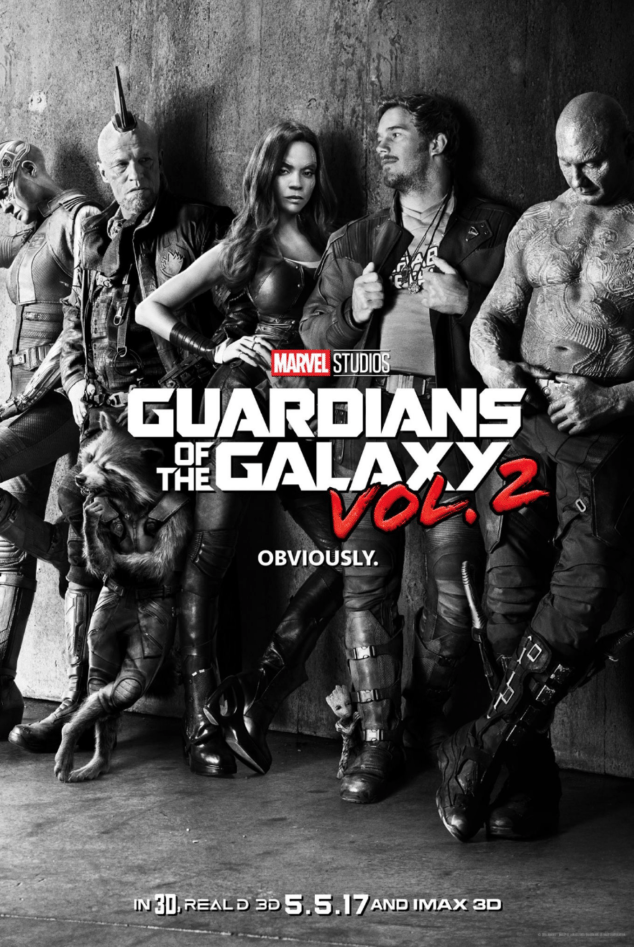 "So we draw the props and I show the director, I get approval, I get with the actors and I figure out what their characters are gonna be and we come up with a plan. And from there, I go into the manufacture process and start figuring out how big it then should be for a person your size or how big the blaster should be for Drax."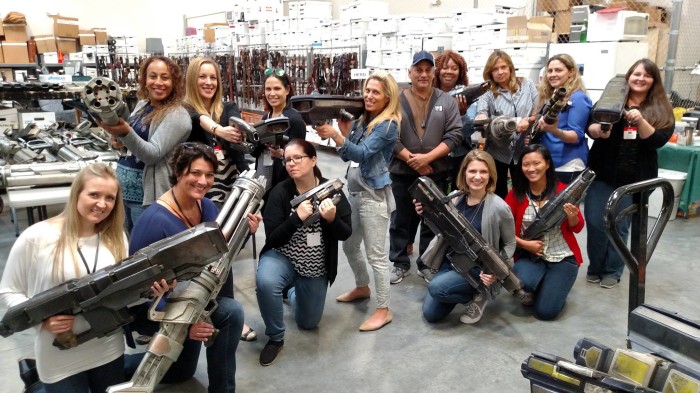 At this point, we got to hold the cannons and blasters which was SO COOL!!!! Let me tell you that some of them were SO HEAVY! He told us he also makes a lightweight rubber version to make it easier for the actors.
"So we figure out the scale and the size and the color palette and all that stuff and then we go into the manufacturing process. We probably made over 300 blasters for this movie."
He then went into explaining about the headset and how James Gunn loved the end result of it and how he is really proud of it.
We wanted to know if he and James sat down and talked about what he's looking for or did he bring stuff to him after reading the script?
"The latter. I'll read the script and I'll hire a team of illustrators and I'll go okay make me 20 versions of that blaster and then we'll narrow it down to about four or five and then I'll take it to James and I'll go here's some good choices that I can afford. I'd say 50 percent of the time he'll look at it and go, yeah it's good but I'm not so excited about the color."
"I'll do another pass. I'll quick draw another pass in different colors or the size or whatever he feels. They all have a vision. Directors have a vision and the art of dealing with these directors is to tap into their minds. It doesn't take long before you start getting used to it. And so we figure out where his head is at."
He told us he was big into adding color to the blasters this time around since it is a very colorful movie.
We then asked him where do all the props go after the film?
"They go to the magical Marvel warehouse. Thor 3 is happening in Australia So the Thor 3 prop guys will call up our magical Marvel warehouse and say, send all the crates out to you, from Thor. We send them all out there. They use them. They make new stuff, then it all gets compiled, goes back to the thing because we're about to do Avengers."
"And I'm gonna make the call to the warehouse and say, hey, I need Thor, I need Hawkeye, I need every character there is. Send me all that stuff. That was how I'm not spending ten million dollars on every film. We've already made partial and then the director will go, yeah I like Hawkeye's bow but I think it should be a little larger. Then I spend the money. But I do the diligence."
He went around and explained so much to us that day. It was really awe-inspiring to see what goes into making a Marvel movie. I can't wait to see the finished product and all the props in Guardians of the Galaxy Vol. 2.
JONATHAN SCHWARTZ:
It is very exciting to sit down with a producer, especially one of an upcoming Marvel movie. We had the pleaure to do just that in Atlanta at Pinewood Studios, where Guardians of The Galaxy Vol. 2 was filmed. We interviewed Jonathan Schwartz, producer of GOTG Vol, 2. To get you excited about the movie, here are some things we learned about the upcoming Guardians of the Galaxy Vol, 2 movie coming out on May 5, 2017 from Jonathan Schwartz.
1. In this movie, they had to decide if the original Guardians of the Galaxy members are going to go their separate ways or stay together. At the beginning of the movie, it starts a couple of months after the events of Guardian 1. At this point, they are taking mercenary work around the galaxy trying to pay their bills and trying to do better and do good as much as they can. When we first see them, they are on a mission trying to protect a planet from this horrible, tentacle beast, which we're gonna see a lot of in the movie. We will then be introduced to new characters and all of them learning the difference between good and bad.
2. The characters have evolved and changed from the first movie. Without saying too much, new characters are introduced and some of the old characters might not be who you think. They have to continue with their fame and see what becomes of that. He told us he is really excited to see the final result of seeing all the characters bounce off each other and seeing all the characters evolve in really organic ways. Character evolutions that hopefully are totally earned but also totally unexpected. He thinks that is what the heart of what Guardians is. It is really about seeing these characters, seeing them bounce off each other and laughing with them and also crying with them at certain moments.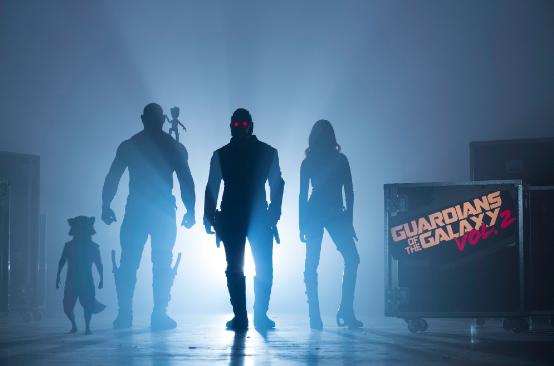 3. The story is AWESOME! I can't really say too much about it because hey you don't want to be spoiled. The way Jonathan was describing it, we are all going to be so enthralled with the final result.
4. They used tons of storyboards to get this right. When we met with Jonathan, we saw storyboards and posters all over. It was really fascinating to see how they got to where they wanted and in what direction they went to perfect it. For any Marvel fan, this was a dream come true.
5. The whole feel of the upcoming movie will have a more rock n roll. Of course, similar to the first one, music will be at the core of it all. Jonathan Schwartz said without being biased, he thinks this soundtrack will be better than the first. He also told us, he thought the music plays a much bigger role directly in the plot than it did in movie one.
6. Color again will be very important in this movie, as it was in the first. There is a really specific color journey that James has in mind to sort of help differentiate these worlds from the audience and color is a way that helps convey mood to the audience. It is supposed to be an extremely colorful movie and hopefully it will help the audience feel emotions they are supposed to feel at different moments throughout.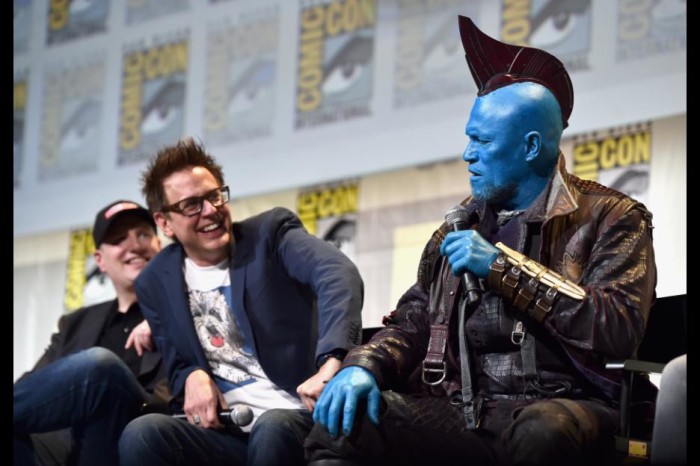 7. If you are a comic book fan of the original, you will not be disappointed. They used many of the inspirations to make Guardians of the Galaxy Vol. 2. The original comics had so much heart to them, and it really had a core group of characters that really worked. I loved hearing him tell us this.
See you tomorrow for more interviews on GOTGVOL2!