**I received an all expense paid trip thanks to Disney. All my opinions are my own and not swayed by outside sources.*
Stuck in The Middle is a Disney Channel show that my kids absolutely LOVE! It a show that not only do my 5 and 8 year olds watch but it is one their mommy loves to watch too! The show is so creative and allows my children to watch a show that is carefree, fun, light, and just a funny show. My whole family sits down with each week with the Diaz family.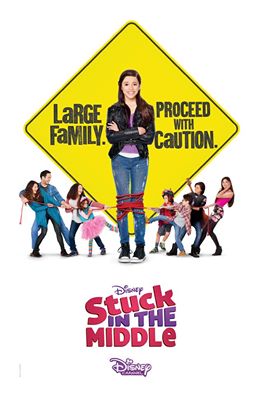 SYNOPSIS:
The family comedy series follows Harley Diaz as she maneuvers her way through the bustle of being a middle child in a family with six other siblings. The heartfelt and comedic stories of a big family find Harley devising creative ways to cope with – and stand out – in her family's busy suburban Massachusetts household. Her ingenuity often wins the day for the Diaz family, even with many different personalities living under one roof.
We had the chance to sit down with the cast of Stuck in the Middle. They even made a little video tape for my kids which my kids then brought with them to school later that week. I am now the totally cool mom-LOL! Anyway, the cast was so friendly and just adorable. You can tell even though they are a TV family of 8, they truly are family in real life. It was endearing to see the dynamics of their relationship and to speak to them that day. After watching some upcoming shorts, it was time to start the interview.
Question 1:    Let's talk about that cake scene. How fun was that the film and how long did it take? (there is an upcoming episode featuring a huge sheet cake)
"It was so much fun. It was a little cold but it was like obviously amazing. The cake was so good. I was doing snow angels. Snowballs were coming out of the cake. It was so much fun."- Ariana
Question 2:    So how many of you are actually from large families?
Jenna told us is from a large family of 6 kids! She loves it! Ariana told us it is her and her brother. Kayla told us she has a brother. Cerina told us that she is stuck in the middle in real life. She thought that Disney created the show for her and the family because there are so many parallels. It was perfectly designed.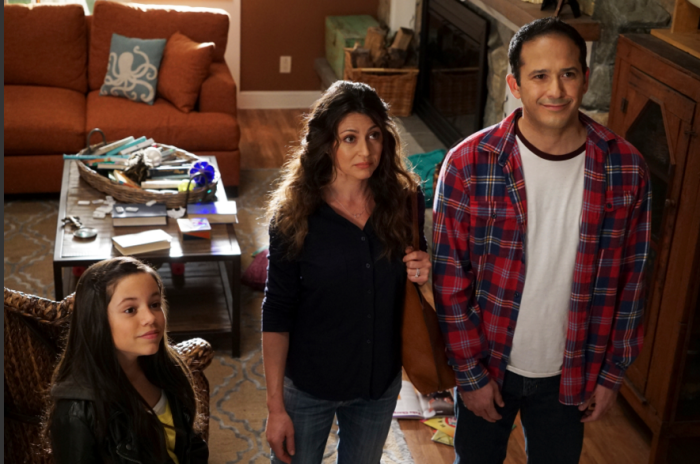 Question 3: How do you like being stuck in the middle?
"I love being stuck in the middle. I like Harley's storyline because at first she's kind uncertain of where she's going with her life. She feels very invisible but later on she realizes that she is very important. She plays a very important role in her family. I think it's important to know that for those middle children out there who feel like they're not noticed that they are. And they are very important in the families because they make their families their families."- Jenna
They then went on to tell us that they love pranking each other on set. Here is one of their biggest pranks which made me laugh:
"And I said, well we have to get Isaac before he gets us. So Isaac is like the biggest Oreo fan. So my siblings and I, we got a packet of Oreos and we opened one of them. And we put deodorant in there. And Isaac runs in and we're eating like the normal ones. And he said, oh my gosh, give me one, give me one. So we give him the deodorant ones. He shoves it in his mouth. Chews it and then after he chews it he runs to the bathroom."- Jenna
Question 4:    What's the chemistry like onset?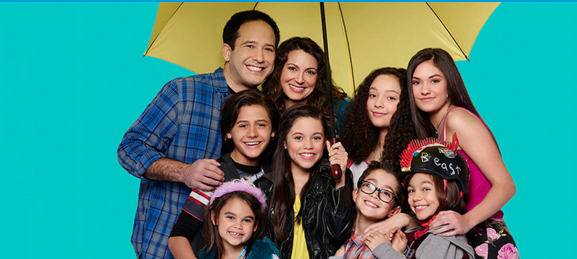 Ariana told us that it is straight up family and Nicolas told us that they are all like real life siblings. They love to hang out after filming for dinner. The dynamic is wonderful.
"And that happened right from day one. Right from day one it happened. It was immediate and fantastic."- Joe
"I know for Malachi and I we're only children. So like us walking into this as only children, we're walking into this big family. It was actually like adopting a family."- Isaak
"I will say that back to family, I'm not a mother in real life.
I always wanted seven kids. And it just like was a weird childhood thing. And I have them all but in a different form. It's really cool. We're bonded. Love is love."- Cerina
"We're like a real family we have everything which really helps brings the onset chemistry. I mean we have the bickering and we have the jokes and we have the emotional moments together that really helps bring that to the screen. You know if everything was happy and joyful 24/7 I feel like it'd be very phony. But because we experience all the emotions that kids do it really helps onscreen."- Isaak
Question 5: How does that feel more that y'all are like in everybody's household? We live in South Louisiana. Y'all are big down there.
They told us it is really great and they are so grateful.
"I think our storyline is very sweet. And like the main, what we're trying to get across to families is you should celebrate being a part of a big family. Like it's not such a bad thing as people make it out. And to affect people like all around the nation is amazing."-Jenna
"I'm pretty sure I speak for all of us when I say this was like a dream of ours to be on a Disney Channel show. So the fact that you know we're walking down the street people are like, hey, Harley, you want to grab a photo? Hey, Jordan you know like reach out. It means a lot to us."- Jenna
"When I was little I would watch the Disney channel and be like, wow, I wonder how they do that. And it's like now we are in this position that we're like actually on a Disney show."- Malachi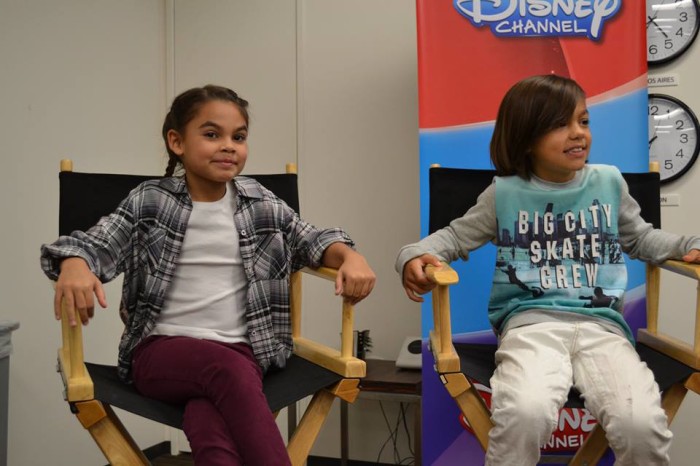 "I'm happy and excited to be there because when I was younger the twirl with the baton or whatever. And I would look in my mirror and when I first said I wanted to be an actress I told my parents, I want to be on the Disney Channel show, you just watch. They're like, okay Jenna like slow your roll. And I'd twirl my baton and I'd go, hi, I'm Jenna Ortega and you're watching Disney channel. Isaac was the first one to go up and I was shaking off camera. And Nicolas was like, Jenna, whoa, whoa, whoa, calm down, calm down. Ronni was going and I was like screaming. I was so excited by the time it came to me. I did the first one and then I started balling. And the makeup artist was like, Jenna, you've got makeup on, be careful. (on doing the promos)"- Jenna
"I think I was four when I was watching Disney channel. But then I just videotaped myself. I went in the kitchen and then I propped up my dad's foot. And oh look, I think I took a pencil or something. They're like, hi, I'm Ariana and you're watching Disney. And I did it. And then I think I started a video. Am I really here? So after I did I'm like, oh my God. I'm like, real."- Ariana
"And it's kind of off subject but it's really cool when even the parents walk up to you and they say we love your show. And so when we started off we thought it was just going to be a kids' show. And only kids were going to watch it but now we have parents walking up to us saying you're one of my favorite characters. You're one of my favorite characters. You're one of my kid's favorite characters. It feels so good to know that it's not just kids who watch the show and appreciate your hard work but it's the parents too."- Nicholas
"The writers really did it. They created a different kind of a show for Disney. And the writers are brilliant and the jokes are funny and it's real. And we have a production staff that wants to keep everything looking real and feeling real. So it's cool to be a part of this. It takes a village to create this."- Cerina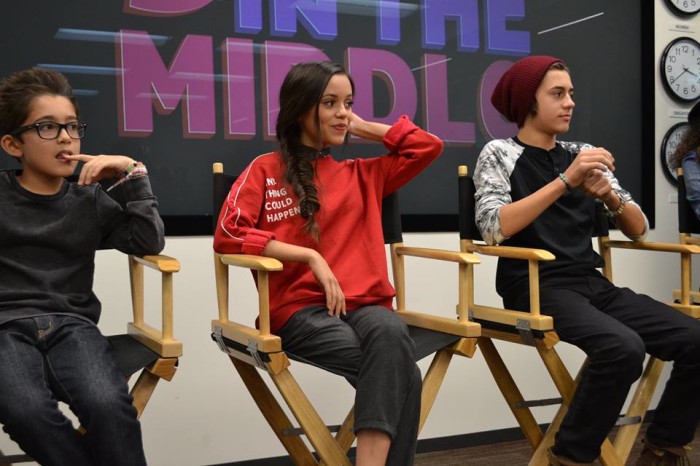 Joe then went on to talk how they all did the red carpet of Moana the night before and it had been a full year since they filmed the pilot. He told us he was so proud of how beautiful they looked and how they all handled themselves. He was beaming with pride for his TV family.
It was such an awesome day interviewing them. They are all so composed and beautiful. You can tell that their wonderful dynamic onscreen translates to their relationship off screen as well.
 "Stuck in the Middle" short-form series debuts on the Disney Channel App November 24th and on-air December 16!