**I received an all expense paid trip thanks to Disney. All my opinions are my own and not swayed by outside sources. Photo credit given to Disney and Dusty from As Mom Sees It.**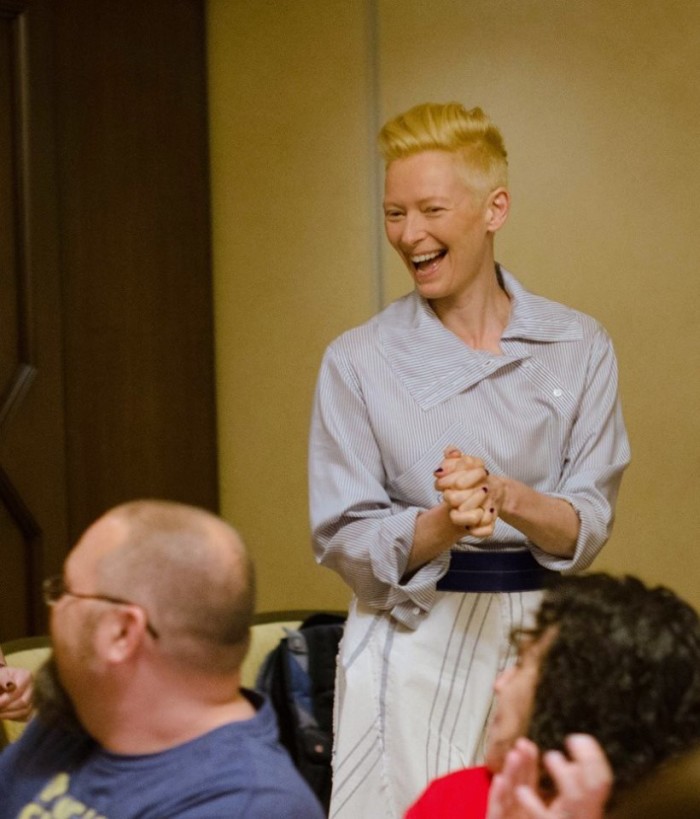 Tilda Swinton is an absolutely AMAZING actress with so many wonderful credits under her name. Some of her past work includes The Man from London, The Chronicles of Narnia: Prince Caspian,  The Curious Case of Benjamin Button, The Grand Budapest Hotel, and A Bigger Splash to name a few.
In Doctor Strange, Tilda Swinton plays The Ancient One, which is a character that was originally written as  a Tibetan man in the comics on which the movie is based.  However the casting made perfect sense because the movie, although based on the comic book, is different. In this movie, The Ancient One was made for Tilda Swinton, as a Celtic Character.
When Tilda Swinton came into the room, we were all blown away. She was so confident, beautiful, and gracious. She was very eager to talk to us all about her character and her role in Doctor Strange. The interview with her was very informative and I know you all will love her in Doctor Strange.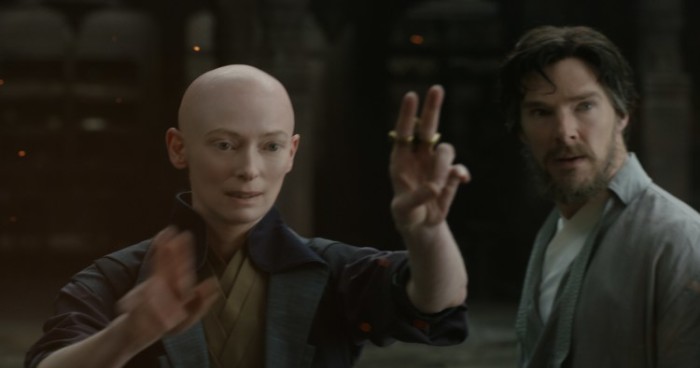 MY INTERVIEW WITH TILDA SWINTON: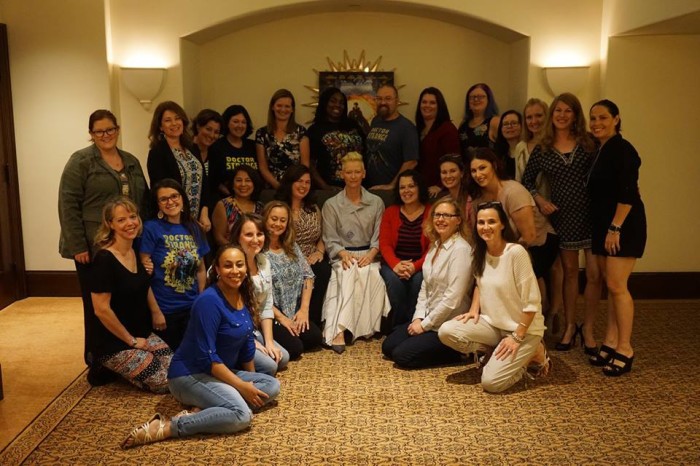 Question 1: So what was it like getting into costume for the Ancient One?
She told us it was a great costume similar to being comfortable in pajamas but super beautiful!
Question 2:   Did you have any struggles with this particular role?
She said that the only real struggle was casting spells, learning all the amazing things with fingers, and then remembering what to say at the same time.
Question 3:    How did you feel about being cast in a role that's traditionally an Asian man?
"In the comic strip, it was an Asian man, in fact, a very Ancient Tibetan man living on the top of a mountain. The film script that I was given wasn't an Asian man, so I wasn't asked to play an Asian man. I was asked to play an Ancient Celtic person. If I'd been asked to play an Asian man , I would've shown them Benedict Wong (lol) but Scott was very, very clear about the reasons they wanted to shake up the comics."
"When you see them, they wanted to shake up the stereotype. They felt that there were couple of kind of gnarly racial stereotypes around the two big Asian characters in the film, one was Benedict Wong's character; he was a sort of servant. And the other was the Ancient One, who was a kind of old, wise Fu Manchu character. Scott wanted to make it a woman. "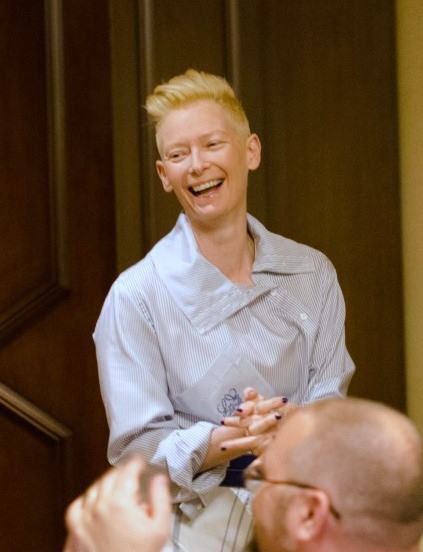 "I think it was a really, really cool move to put a woman in the Marvel universe who's not twenty-one and in a bikini. I think, the idea of a sorceress supreme being a woman was very cool. He did not want to cast an Asian woman because he was worried that it would turn into a kind of dragon lady thing.
Question 4: What was the most difficult scene to film, and why?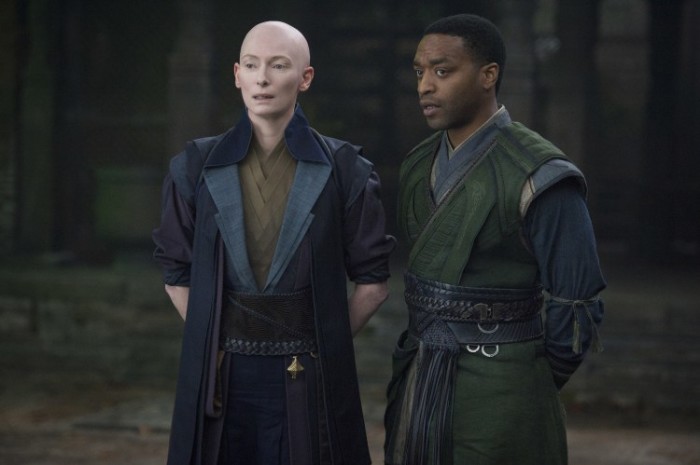 She told us it was actually very easy. She told us the fighting was fantastic fun, with it being both difficult and interesting. However, she set herself up in a way to be calm because the Ancient One was very serene through all
Question 5:    Did you do your own stunts?
She said she did a lot of them but had a great stunt double on set too who she became friends with. She did the very dangerous stunts.
Question 6:    How did you feel about being bald in the movie?
She told us it was her decision to go bald. She told us to play the really ancient character she thought this was the right decision to shave her head. She liked it.
Question 7: At the end, your character says some really deep, profound things. Was there anything you said that you were proud of, messages that you took away?
"There were a couple of moments I must say when I really found it such a privilege to say. There's a moment earlier than that, when I'm teaching Doctor Strange and looking straight into the camera – basically teaching the globe's population of fifteen-year-olds about mindfulness. That was like, WOW! This is such a great chance to say, 'Yes I'm a rad superhero myself, but I'm telling you, be authentic, you can control your mind; you have a choice of your reaction to—to obstacles in your life, and serve something greater than yourself!'"
Question 8:    What was the dynamic of everyone on set?
She told us it was a little like joining the circus but Marvel. They were given incredible costumes and everybody in the Marvel universe that she met so far were so psyched to be a part of it, even though there are some people who have been there for years. The cast were all so happy to know each other and they continue their friendship to this day.
Question 9 : What are your thoughts after seeing yourself in the film? Like, seeing it all come together?
" I was really happy. I was so impressed with the way it came out. It is also always weird. I mean, maybe it's weird for all of us, if you see yourself on a home movie, you sort of see everybody else except yourself for a bit. But with this one, I don't know whether it's the way in which it's in this heightened universe, and everybody looks like Marvel characters. We don't really look like ourselves. There's something very smooth about everything, and that's to do with the way it's lit, and the way it's designed. And it's cut like a comic strip. It's quite an experience and it was better than I'd hoped."
Question 10:   Was there any adlibbing on set that made it into the film?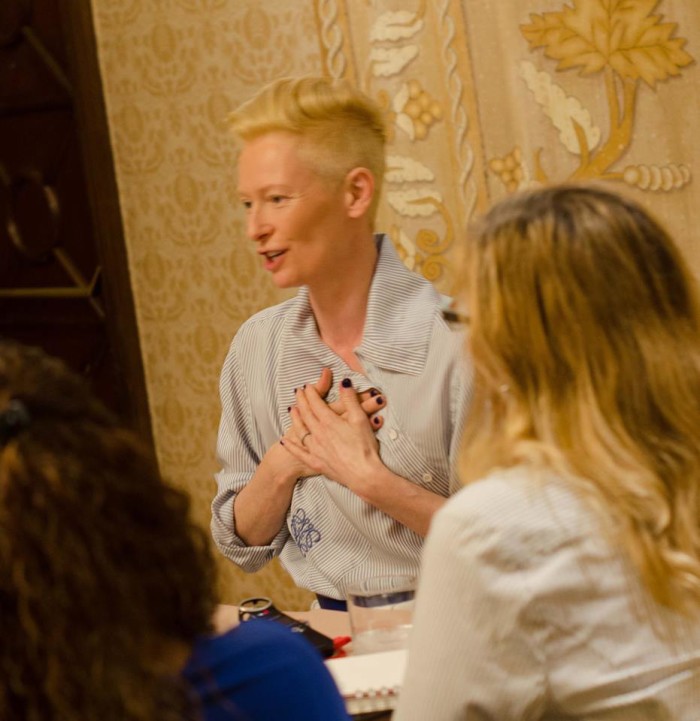 She told us Scott was very clear from the beginning that even though the script was fantastic he wanted it to be free and easy. So there are parts in the film that little tidbits were added on and made the cut.
Question 11: Was there anything you learned about yourself while making this film?
"I loved all the action, and I loved the feeling that we were all very physical while we were working, and we would jump over to a B stage and do some physical stunts, and then we'd come back and do some quiet Zen scene."
" I had a reminder of something I should've learned earlier which is that it's really important to do the two. A physical kind of energetic life, alongside some kind of introspection is a really healthy thing. And I didn't get sick throughout the shoot, and we all always get sick when we're shooting, and I didn't get sick, and I think that's something to do with that."
Question 12:   How would you describe your character, the Ancient One, in one word?
"It's a noun and not an adjective – it's perspective. Yeah."
Question 13:  So after the audition, what were your feelings upon hearing you had gotten the role?
"Well, I was in a very fortunate position of not auditioning at all. I was in LA anyway. I was working with the Coen Brothers and I was told that Scott Derrickson wanted to meet me and I didn't know why. I'd met him in the past and I didn't know why he wanted to meet me particularly and so we had tea and he told me he was going to do this film, and he told me that he had written this part for me, and he basically kind of emotionally blackmailed me and said, "If you don't do it, I'll have to rewrite it".
"So I was flattered and honored and intrigued – and then of course I read it and I felt really good about it, but, I was very lucky. Yeah. He presented it to me like that. And the film that he spoke about there at that tea table, I remember, was incredible and he said, 'This is going to be a film, a big, tent pole Marvel film about creation, and not about destruction.' And I thought now we've seen it – that's what he's done!"
"I mean, that's what's so moving I think about the film is that this power of Doctor Strange and that he is taught to wield his power for good. It's new, and it's really new. I mean, I know that that all Marvel superheroes eventually work for good, but there's a lot of, city-flattening that goes on. But we actually put a city together again. And when he described that to me, I remember thinking, 'Oh wow I can't wait to see this film, let alone be in it.' I was in at that point."
Question 14:   :    So what is next for you?
She told us she is going to start working on a movie in 2 weeks. It was pushed back for a week to do these interviews. It is with her friend Luca Guadagnino, who's an Italian filmmaker she has worked with many times before; two films that have been released here, one called "I am Love" and one called "A Bigger Splash" which was released last year, and she is making a new film called "Susperia" next. "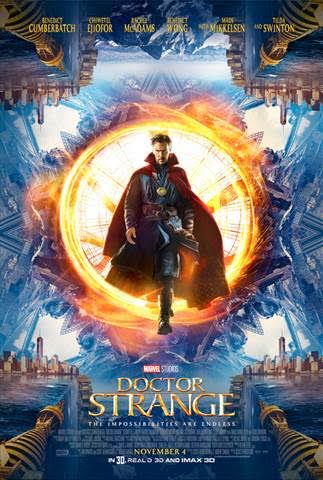 See as Tilda Swinton next Friday, November 4th as The Ancient One!