**I received an all expense paid trip thanks to Disney. All my opinions are my own and not swayed by outside sources. Photo credit Disney and Louise from MomStart.
Some bucket list items have officially been completed:
Meeting People's sexiest guy alive
Making Dwayne Johnson blush and have to get a towel to wipe his face.
Making The Rock's Facebook and Instagram Page about the incident on #2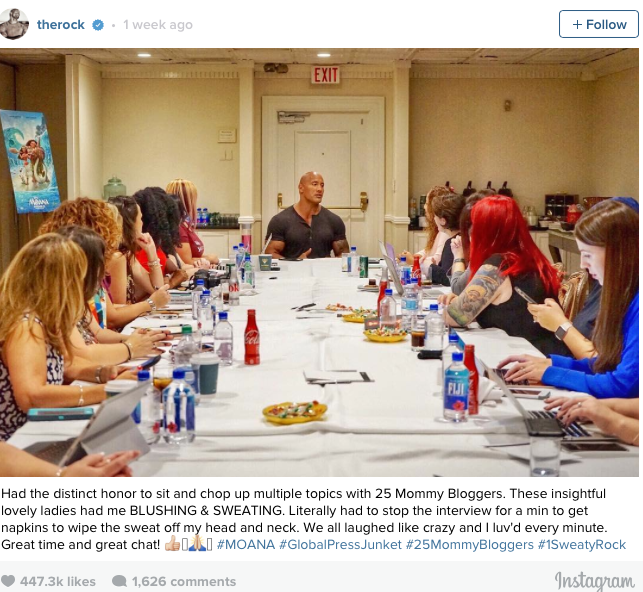 Meeting Dwayne Johnson, AKA The Rock, was one of the best interviews I have had to date. I have loved The Rock in so many awesome movies such as The Fast and The Furious franchise and The Scorpion King. He is fabulous actor that is so unbelievably talented and obviously very good looking (hence sexiest man alive).
We had the honor to interview him for his upcoming voice role in Maui in Moana. When he walked in the room, all 6'5 feet of him, all our eyes were gazing on him and we were very excited to start the interview with him. As noted above, a blogger friend made him blush that day with talks of his pecks (it was so funny) and it spread like wild fire on his social media pages. I don't think I will ever forget that interview and I hope you enjoy his interview as much as I did!
INTERVIEW WITH DWAYNE JOHNSON: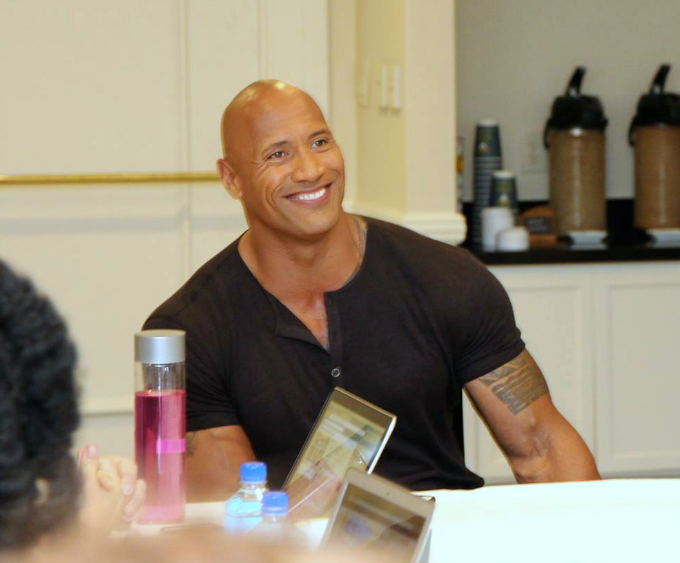 Question 1:    Why was it important for you to do this role?
He joked with us that it was money. But after being funny he told us it was important for him to do it because it showcases his Polynesian culture to the world. He told us he is half Samoan and half black and it was a great opportunity to get his culture out to the world.
He also told us any opportunity to work with Disney is one he had to take. He did two Disney movies in the past but this was different because it was a voice character.
Question 2:    And what was the biggest challenge?
He told us the biggest challenge is it is a different muscle to exercise. He had to find ways to really add real zest and life to words and to sentences. He wanted to make sure that the words that he spoke had life and the correct energy, temperament, tone and intonation. He told us it was a really fascinating experience.
.
Question 3:    You're so much more versatile than people give you credit for. Talk about the rapping you did in this role.
He told us it was a great opportunity to push himself and to set the bar high.
"The bar's set very high in a Disney movie where there's the element of music. I felt confident going in because I felt confident that I could prepare and do the things that I can control. And also surround me with really amazing collaborators musically, like Lin-Manuel, and Opetaia. So I was excited to sing a song, and to Lin's credit, he did a lot of deep dive research. I've sung in the past but on daytime TV. Lin did his research and he found a comfortable range that I could sing in, and then he also pushed me a little bit. I had a real, real, real good time. And rapping too and the whole thing, so now I'm a rapper."
Question 4:    What do you want people to take away from the film? It's so culturally infused. Is that what you want people to take away?
He told us there are a few messages he would like the audiences to take away from this movie. While we all can have different interpretations of movies, he loves that the cultural aspects of this movie. He thinks they did a tremendous job of representing the Polynesian culture.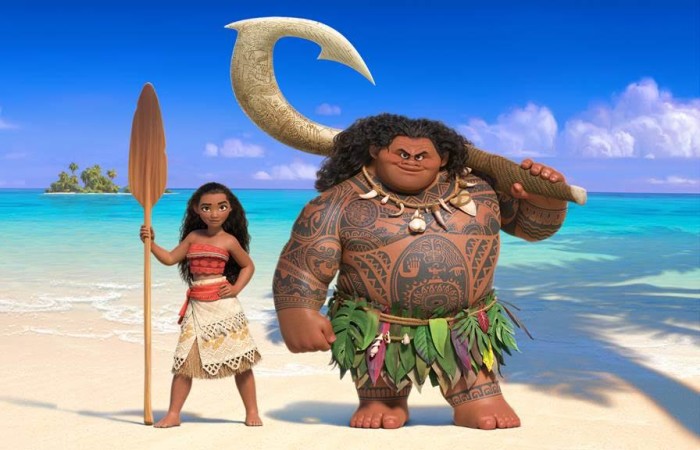 "So by the time the script got to me, they'd already done years of research in going to all the different islands, and speaking with the high chiefs, and all the villages and trying to understand the cultures, which comes out in the authenticity of the writing. So the takeaway would be showcasing our culture, and seeing that there's a wonderful quality of our culture, and there's a fierceness to our culture too, as well, and a tremendous pride."
" Also too I think there's a great takeaway that speaks to all cultures, is with all ages, religions, and everything else that our world has, is we have this little voice inside of us, and to always make sure that we got to follow that voice, and listen to the voice. A gut intuition and that we have that kind of faith, not necessarily religious faith, but faith that there is more. And you can be more."
Question 5:    Which accomplishment in your life would you like for that tattoo to represent?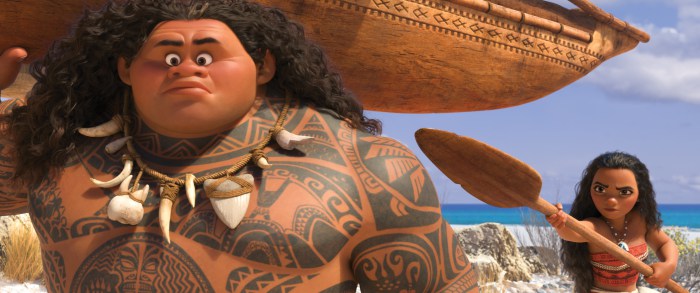 He said easily it is being a father. He told us he performed Pikachu for his daughter because she was amazed when she saw Pikachu for the first time. Also to his daughter, Maui will be just Maui, and not daddy.
Question 6: Speaking of being a father, and being such a successful businessman, do you have any time management tips?
"It's a constant management of trying to figure things out. Lauren and I are consistently checking in with ourselves on where can we improve? What kind of support do we need? How can we improve our time? What can we do and find the balance?"
"I think it's just been a consistent management of time check-in, and are we doing the right things at the right time. Are we checking our ego at the door and asking for help where we need it and cause we find that there's a lot of people around in our families and friends, our circle, who are willing to say, "I got you! You know, what do you need? What can I help you and then so often, especially with Lauren, especially with you moms, it's, "I can do it. I got it. No no no, I'll get it. I'll get it." So it's just for us, it's been just a consistent check-in."
Question 7:    So beside the eyebrows, what else do you see in Maui that's you?
"Thank you. Yeah there was a good amount that was infused in Maui. I think that there's a part of Maui that I can appreciate, because it's my DNA. I share that with him as there's a fun side to Maui, and a need to keep things and a desire to keep things fun, and keep them a little bit on the lighter side. Not quick to show the vulnerability and not quick to go down that route. So, I would say that. Yeah. And some bravado, a lot of bravado, because you can mask a lot with bravado."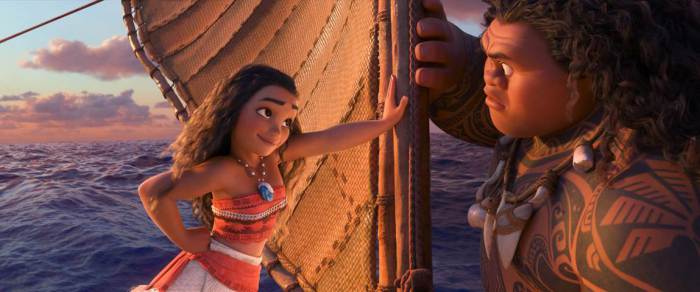 Question 8:    Did they just animate you, or did you have to put on the costume for them to get the facial expressions and body movements?
He told us it was a very neat process with there being multiple cameras in the room. As you are going through the lines with your facial expressions, the animators will then work to perfect Maui based on you.
"So, if I say, 'You can't do that!' my eyebrows go up, then that will inform the animators, compared to you can't do that. So there's all these really amazing and unique little things that take place that they capture that informs the animation. And what I found was in the animation, especially when you're on the ocean, and it is the ocean; it's outside and it's mother nature, it becomes really, really beautiful, and gorgeous."
Question 9:    As a father, do you look at the roles you accept in a certain way?
He told us yes there is a definite responsibility there. He told us he has an eleven month old baby named Jasmine and and a 15 year old Samoan daughter. He told us with every role there's that added responsibility and to think is it appropriate for her or for them to watch, but more so, are there qualities there that we look for that are important, and is the takeaway there? The messaging is important, even within the context of something more on the comedic side, those questions always still come up, and he always make sure that those boxes are checked.
Question 10:    What are you hoping children will take away from this film?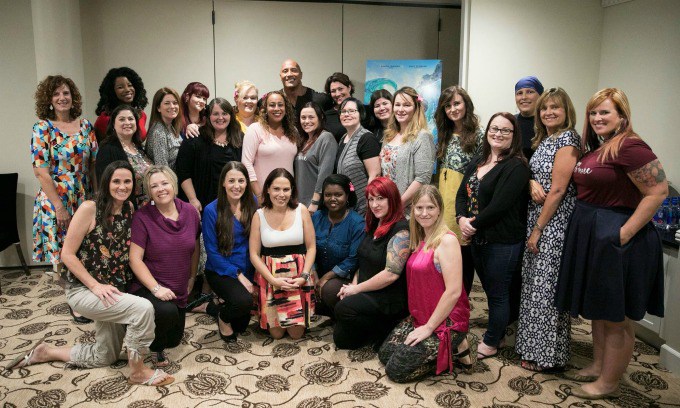 "That is a good question. I think that to have fun, number one, and enjoy it! To create some magic like that for our kids, and adults, is awesome. And I think the takeaway would be a few things. I think number one is having the confidence in yourself, and you are good enough. And you can do this, and it's often, like there's a saying that we have in Polynesian culture, it's like, 'Don't go beyond the reef.'"
"And we showcase that in the movie. Well you can go beyond the reef. And also going back to listening to the little voice inside of you that you know, life is so noisy and there's so much noise, and how important that is to listen to. You always want to revert back to the little voice that you have inside of you, saying you are good enough and you can do things.
BE SURE TO SEE MOANA AND INNER WORKINGS IN THEATERS NOVEMBER 23rd!