eStories takes a straightforward approach to audiobooks that may not be unexpected but that totally work. That approach is to have a lot and have the best. I recently had the opportunity to give eStories a try, and I was quite impressed with the ginormous library of audiobooks that they have in their library.

*This is a sponsored post. All my opinions are my own and not swayed by outside sources.*
eStories Makes Enjoying the Written Word Easy
I love to read. I'm an avid reader, in fact. Unfortunately, I don't get to do it very often. Between blogging, my dental practice, traveling for the blog, traveling for the kids – well, you see where this is going. I have no time to actually read a book. I'm just too on the go, and when I'm not on the go, I'm passed out on the couch or in the bed. With eStories, I can read with my ears. I love it because I can get in some reading while I drive or do other mundane tasks.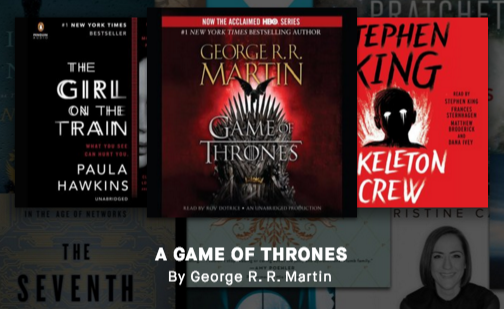 My kids can enjoy it, as well because the absolutely huge library of over 90,000 titles at eStories includes kids and young adult titles in addition to best-sellers, classics, self-help, science, and a host of other topics. I've found that it's an excellent way for me to get in some reading while I'm on the go, and the kids can have a little story time for themselves whenever they feel like. It's pretty cool!

In addition to all of those audiobooks, it's exceptionally easy to use. It's the most affordable audiobook service on the market, with subscriptions starting at $11.95 a month. It's flexible and easy to use, and one account can connect up to 10 devices. Which means you can get your book on no matter where you are or which device you happen to be one. It also features unlimited cloud storage which means there are no device storage worries, AND you can even upload your existing library to your new eStories account.
eStories – Bringing Story Time to Adults and Kids
eStories makes reading easy for adults who have zero time. With their vast library of titles – everything from best-sellers to self-help – eStories allows us super busy grownups to enjoy books again. And with no shortage of kids and young adult titles, even the kids can enjoy reading while they're in the car or generally on the go. Check out eStories today. It's pretty great.
It's also a great gift. With the holidays coming, let's not forget that one of the best gifts is the gift of a good book. It is the most affordable service on the market, with subscriptions starting at 11.95/month!  eStories make thousands of those good books accessible in an instant, so if you have a book lover in the family, eStories is the gift for them!
SOME OF THE OTHER AWESOME FEATURES INCLUDES:
-One account can connect to up to 10 devices (start on one and pick up listening on another, so you can take your book with you wherever you go or if someone is using the original device
-Provides unlimited cloud storage so you don't need additional storage and you can even transfer and upload your existing library to your new eStories account
-Books are all DRM-free, which is a huge deal for a lot of people, meaning you can do whatever you want with the audiobook once you purchase it – which is not true for books on Audible and others