Happy weekend everyone!! I hope you all have a great weekend with whatever you do.
As always, come link up any cute or funny post. Definitely check out the other blogs who link up as they all provide a great laugh. Feel free to share on social although this is not necessary, just appreciated.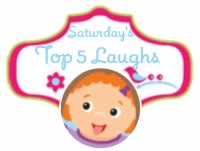 MY LAUGHS:
5. Taylor is little miss independent. I try to help her with everything and she says, "NO MEEEE!"
4. Zane has made a new name for himself. He likes me be called Alvin Chipmunk Pezza. Okay Zane!
3. Hayley is doing great in school but when I ask her she tells me to stop asking. She tells me if there is a problem, she will let me know. SASSY!
2. Taylor wants to learn everything. The only thing she is not interested in is potty training. She likes to say, "No Mommy.. Potty not for me!"
1. I tell Taylor that I love her and she is my best friend. She responds, "No mommy…Daddy is my best friend"! LOL
YOUR LAUGHS: