Life is good. It's important to remember that. Between the races for party nominations and, now, the race for the White House, it can be easy to forget that. If you believe all the hyperbole, you'd think our country was collapsing tomorrow. Which isn't true. So with all the energized words and negativity surround this cycle, positive lifestyle brand, Life is Good, decided that it was time for all of us to be reminded that life is, in fact, pretty darn good, and they want to help everyone in the country remember that.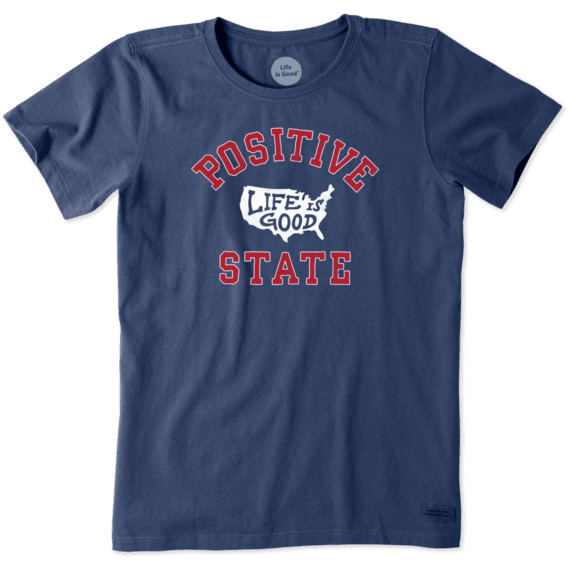 *This is a sponsored post with Life is Good. All my opinions are my own and not swayed by outside sources.*
Positive State Collection from Life is Good
There's nothing  like the power of optimism, and I can tell you, we need it. Among my friends, both physical and Facebook, there's been a decided pall over life since this election cycle started. Between world issues and the rhetoric we hear from both sides, it can be easy to see the world through gray colored glasses. But the fact is, whatever problems our country has, it's still a great country to live in. It may not be perfect, but it's not a third world country, and there aren't bombs destroying our homes on a daily basis. We have it pretty good, as far as I'm concerned.
That's why I love the Positive State Collection from Life is Good. This is a program and apparel collection all about remember how good we all have it. Now through November 8, 2016, Life is Good is encouraging fans from each state to fill out a Facebook survey sharing what they love about their state such as fun facts, local heroes, favorite foods, favorite places, and more – really anything that highlights how much they love their state. They can share their good moments using the hashtag #GROWtheGood across all social channels. At the end of the campaing, Life is Good will give out $25,00o ($500 to a participant from each state) in grants to help local communities Grow the Good and keep the positivity going.
In addition to that, we can all show how good life is with the Life is Good Positive State Collection, an Americana t-shirt line for men and women which includes a patriotic palette and inspirational graphics that focus on the good happening in the U.S. These tees are made with 100% USA grown cotton, garment washed for softness, and feature double needle stitching. That makes life even better, because we can showcase our pride in our country, a positive outlook, and we can do it with high-quality clothing.
Always Remember – Life is Good
This election cycle has been particularly nasty, but it's important to remember how good we all have it. With the Positive State apparel collection, the Positive State campaign, and the #GrowtheGood hashtag, we can all remember that whatever is happening or being said, life IS good. For more information on the campaign, visit the Postive State webpage, and to shop the collection, visit the Life is Good page.
The Life is Good Company is a $100 million lifestyle brand dedicated to spreading the power of optimism. The company donates 10 percent of its net profits to help kids in need. To date, the company has donated over $11 million, principally through Life is Good products, events and community fundraising efforts. Life is Good® is a registered trademark of The Life is Good Company. Please visit LifeisGood.com for more details and follow Life is Good on Twitter, Facebook, and Instagram.