As a mom of three small kids, I have been through the baby bottles and sippy cups. I can't even tell you how many we replaced unnecessarily because of the stink of the bottles. I am sure you can all relate! Enter FizzWizz!
*This is a sponsored post with FizzWizz. All my opinions are my own and not swayed by outside sources.*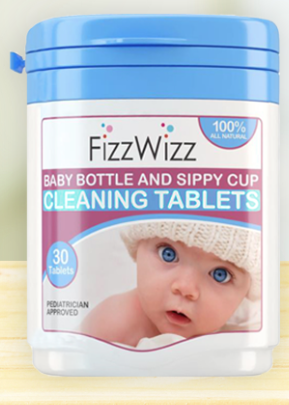 FizzWizz is a mom invented tablet that packs an enormous cleaning punch. Simply drop into a dirty (really dirty) baby bottle or sippy cup and with a little water and shaking, it comes out beautifully clean. No smell. No grit. Perfectly safe and non-toxic. It's great for on-the-go cleaning when you run out of bottles and works great in the kitchen on water bottles with tons of nooks and crannies that your bottle brush won't reach. It's basically the cleaning product you didn't know you needed until you have it.

FizzWizz makes it easy to protect your precious babies from bacteria that creeps up in sippy cups and bottles. The FizzWizz tablet eliminates this issue with its intense fizzing action that removes grime and all those nasty smells from even the hardest reach places. That is right now that bottle can be used over again and not tossed due to the rotten odors.
Here is how it works:

Mom tested, pediatrician approved, and blogger approved! Next time you want to get that baby bottle or sippy cup clean, give FizzWizz a try! Trust me, you can thank me later!