*This is a sponsored post. All my opinions are my own and not swayed by outside sources. *


SAGE is more than home automation. It's more than a home security system. It's both. With SAGE, your home takes a giant leap into the future with a fully integrated, self-monitored security and home automation solution that's easy to use and features multiple levels of encryption to keep you safe from outside sources attempting to hack your home.
SAGE – Home Automation and Security in One Package
We're all witnessing the trend towards home automation these days. You can control your lights, thermostat, and a host of other aspects of your home with an app. We're also seeing more sophisticated security systems complete with audio and video in addition to traditional motion, door, and window sensors. You know what we haven't seen? An all in one package. Until now. This system is home automation and security in one package that's easy to use. You can control your entire home with your television or your smart phone!
That's a huge bonus in my opinion. As a full time blogger and mom and owner of my own dental practice, I never stop moving. SAGE is a fully integrated home security and automation system that can help me save time, money, and hassle. That's pure gold in my world.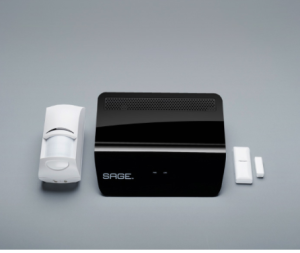 Product Features
TV Integration – Your television is your home's control panel. User-friendly interface wit picture-in-picture layout for managing your home without missing your shows.
Self-Monitored- Control lights, sensors, door locks, baby cameras and more with SAGE's self monitored system.
Mobile Control – Use your smartphone or tablet to easily control your home from anywhere. The app is available on Android and iOS.
Customize Your Home – Create profiles to fit your lifestyle. Automatically adjust thermostats for times when you're home or away. Start your coffee maker as your alarm goes off. Make your home fit your life.
MyLocal911 – No matter where you are, SAGE alerts you to possible situations in your home, so you can call emergency response personnel with the touch of a button. (Available with premium service plan)
Cloud Storage – Save and playback recorded videos. Relive memories or keep evidence of your home invasion. (Available with premium service plan)
No Contract – Pay for what you use and nothing more.
Easy Installation – DIY installation requires no contractor.
Fully Customizable – Add or remove features and services as you see fit.
SAGE Does it all so We Don't Have To
There are so many awesome features with SAGE. In fact, I'm already thinking about ways to add in more features and make my home even more efficient and easy to run. With SAGE, you can cut down on your energy bill because you can customize a thermostat profile to save energy while the house is empty, and automatic lighting means that there are no lights accidentally left on all day.
SAGE is an all in one home security and automation solution!  It's easy to get started. Simply choose one of the three kits below that interest you, and you're off.
Starter Kit – SAGE Hub, Door, & Window Sensor, Motion Sensor
Security Kit – SAGE Hub, Doorbell Sensor, Motion Sensor, Door/Window Sensor, Indoor Camera
Automation Kit – SAGE Hub, Light Switch, LED Light Bulb, Appliance Switch
The SAGE system is a huge time and energy saver for me and it could be for you, as well. Head over to their website and see how SAGE can help make your life easier.