This is a sponsored post with Velcro Brand.  All my opinions are my own and not swayed by outside sources.

It is the end of the school year but already teachers have the next year on their mind. Education is such a huge part of kids everyday lives so why not show the gift of education by entering the VELCRO® Brand Classroom Makeover Contest for your child's school classroom. They can come back to school in September to a new and spiffy class! Oh how the other children will be jealous!
The VELCRO® Brand and lifestyle designer Sabrina Soto are pleased to announce that nominations are now open for the VELCRO® Brand Classroom Makeover contest. In its second year, the program celebrates and honors educators and their profound impact on students by re-designing educational spaces to create well organized, inviting and inspiring places for learning.
"When we developed the Classroom Makeover program in 2015, we didn't fully realize how impactful the program would be until nearly the entire school turned up to cheer for last year's winner," said Julie Barry, Director of Global Brand, Velcro Companies. "The contest became so much more than honoring one teacher – it was about celebrating the impact that school communities have on our lives. As a company, we are deeply committed to fostering education and learning and are thrilled to again host this exciting competition."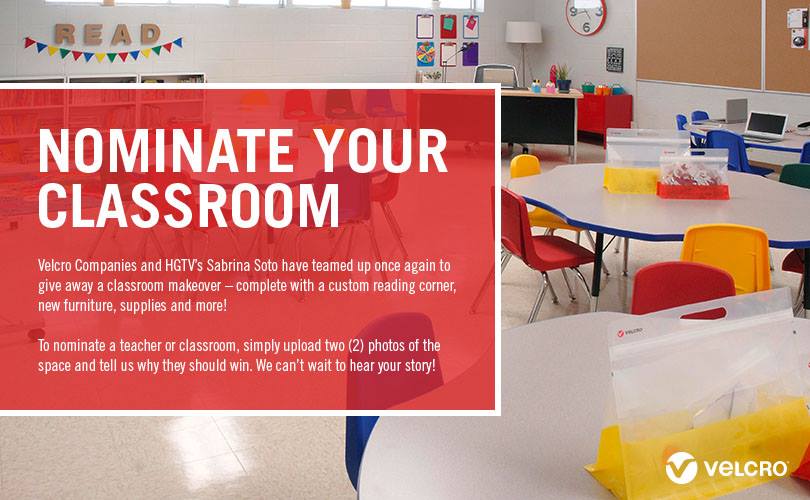 WHAT THE MAKEOVER WILL INCLUDE:
In addition to new furniture, supplies, technology (including computers or tablets) and decorations, the makeover will feature a range of VELCRO® Brand products – a long-time favorite of educators for nearly endless applications in the classroom. This year, the winning educator's institution will also receive a customized Reading Corner – a beautifully designed space complete with favorite books where students can build a love of reading.
"My students have benefited so much from all that VELCRO® Brand provided for us last year," said Desiree Limkeman, 2nd Grade Teacher, College Heights Christian School and 2015 Classroom Makeover winner. "My students are able to work together well in centers by having tables instead of desks. I thank the VELCRO® Brand so much for all it provided to help make our environment a better place to learn."
HOW TO BE IN THE NOMINATIONS:
Nominations for PreK – grade 12 educational rooms are open to educators, students, parents and friends. Submissions must be received by May 31, 2016. All classrooms, resource rooms and formal learning areas are eligible for submission. Entrants must submit two (2) photos of the room with a brief reason the educator and the classroom deserve to win through the WooBox Contest Application featured on the VELCRO® Brand Facebook, Twitter ,and Instagram channels. Educators are encouraged to nominate their own classrooms.
The winner will be announced on June 20, 2016. Follow VELCRO® Brand on Instagram for updates, design photos and updates throughout.
Now is the time to enter this FABULOUS contest! I am going to enter Hayley's school in the hopes that we might be the lucky recipients. It is so easy to enter and imagine the look of your child's face when they enter such a beautiful classroom in the fall. Hurry though as the contest ends May 31st!
CLICK HERE TO ENTER TODAY: Classroom Makeover.