This is a sponsored post with Beech-Nut. All my opinions are my own and not swayed by outside sources.
This month, in an effort to help parents understand the importance of infant nutrition, Beech-Nut released research that analyzed the eating patterns of babies 0-24 months. The company also worked with Nicole Silber, RD, CSP, CLC Pediatric Dietitian and expert for Beech-Nut, to identify tips for parents to help create an easier, earlier transition to healthy foods.
I was very interested in this research because through the last seven years, I have been trying my best to feed my children the most healthy foods. The problem is, like most, I get busy and feed them on the go a lot. We have all been guilty of this but lately it has become the norm. With three kids, it is HARD to always give them healthy eating options!
However, in the past month, I have actually set  time to make meal schedules to make sure what I am feeding my children is actually nutritious. What we put into their mouthes can affect their health later on in life. Not to mention, more short term, if  children live off of  non-nutritious foods, they could hit a brick wall during the most important hours of the school day.
So when I began to look at the stats of all the research, all I thought is WOW and also I was guilty!! We all are though, so I try not to beat myself up! That is why I am grateful to have read the study so that I can make changes in our feeding schedules. After all, this cutie deserves to grow up knowing all the best foods!
 STUDY FACTS AT-A-GLANCE, PLUS TIPS FOR PARENTS:
The research shows that intake of fruits, vegetables and whole grains increase during the 6-8 month "baby food" window (baby food is the primary source of these food groups). But babies' diets start to become imbalanced around the 9-month mark and by 12 months, it gets worse.
Again, we are all guilty of that! However, it is important to make sure we really focus on their nutrition and always take their health into account.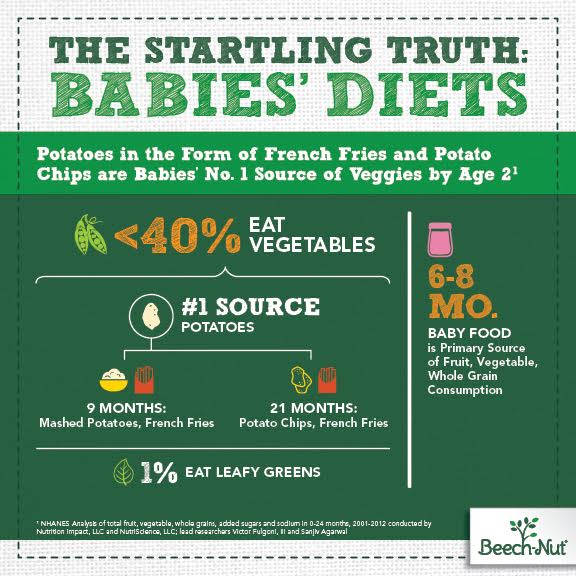 What about this statistic? True or Untrue?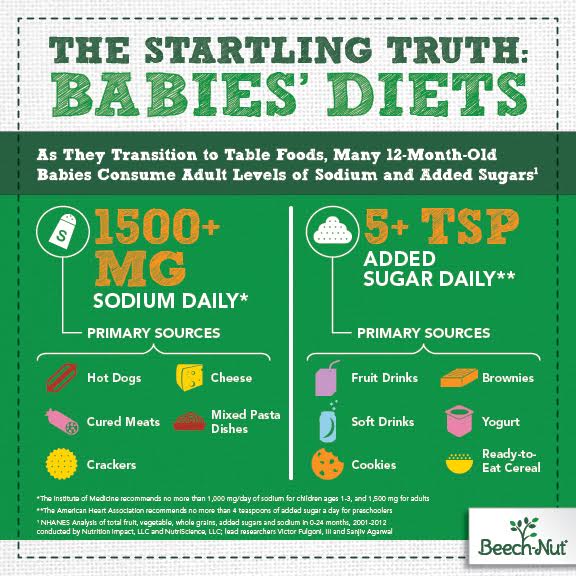 I am in awe of this study because how could a little 1 -year- old consume as much sodium as an adult! That simple hot dog or slice of deli meat can easily be replaced with other, more nutritious, foods. Such an easy to change to make, yet I know I didn't think about it.
And lastly this: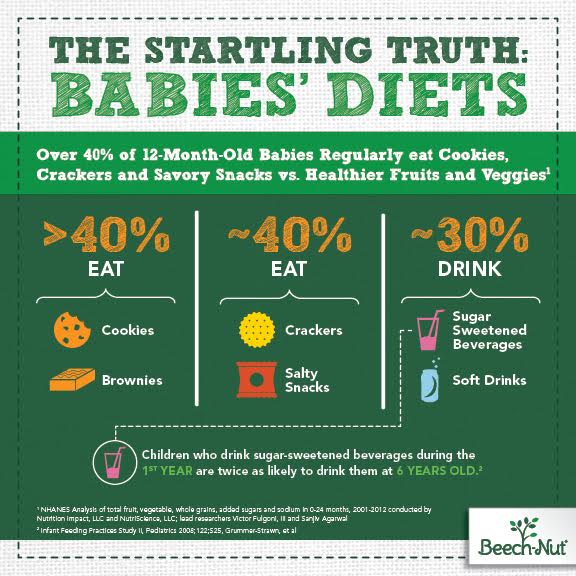 Our little ones are eating a lot of stuff that isn't good for them starting at a very young age – 9 months – which is typically after the baby food stage when babies start to transition to "table food." As parents, we've all been guilty of feeding kids sugary, salty snacks at some point, but let's realize we need a change!  As a mom who leads playgroups, I know that many moms including myself eat a lot of sugary snacks. However, it is essential we set our babies off on the right path for healthier eating. Lead researcher Victor Fulgoni III, PhD, says, "Mounting evidence shows that what children eat in the first two years of life is critical to obesity prevention and long-term good health, which makes what we've found in this analysis that much more concerning." This is enough evidence for me to serve only healthy snacks to my children and take them with me wherever I go!
That is also why I am so grateful that Beech-Nut conducted this research and is providing tips for parents. Mom-to-be Nicole Silber weighed in because she knows parents have the best intentions even though they sometimes don't know the best way forward. See some of her tips here, even print them out and stick them on your fridge. For instance, a great way to get your baby to eat fruit is to add water to his or her favorite Beech-Nut puree, freeze it in ice-cube trays and serve as a tasty popsicle.
WHY BEECH-NUT:
Beech-Nut is here to help you deliver the best nutritional foods to your babies. The company is built on a history of innovation and dedication to infant nutrition, and I highly recommend Beech-Nut for moms of babies. The company clearly has parents' and babies' best interests in mind, and it really is the most high-quality food for babies you can buy from store shelves that delivers proper nutrients at a young age.