*This is a sponsored post. All my opinions are my own and not swayed by outside sources. *
Family fun is a great option for Valentine's Day. With all the posts out there about date night and romantic nights and where to stash the kids for Valentine's Day, I thought I'd go a different route. While I appreciate a good date night, I like to do the holidays with the kids. It's just our family thing we do together. That's why I thought I'd do a post on a Valentine's Day focusing on family fun.
Family Fun – A Valentine's Day for the Whole Family
Like most families, ours has a core of steel. We are devoted to each other, and we love each other as strongly as any person can love another. That's why I like to make Valentine's Day a family affair. It's a day that we, as a family, can really bask in the glory of family togetherness and love. My husband and I save the grandparent sleep overs for New Years! 😉
So how can you make Valentine's Day a day focused on family fun? Well, there's the old stand by's of cards and candy. We always do that. It's a nice little treat for both your tummy and your heart. There's nothing like recieving a lovey dovey card from your husband and either a hand made card or a goofy card that only a child could have picked out from the kiddos followed by chocolate. Chocolate makes everything better.
We also like to play games together for Valentine's Day. Game night is always a good time in our home, but it becomes an even more magical bonding experience on Valentine's Day. The kids are old enough to know that while some kids are spending the night with their grandparents for Valentine's Day, they are at home playing a game with mom and dad. They know that they're part of a really special day in a way that some kids aren't. Let me follow this up by saying that I in no way judge any parents who make Valentine's Day a date night. Not at all. Everyone has different dynamics, and that's fine. I'm just focusing on what we like to do. This is a judgement free zone, people!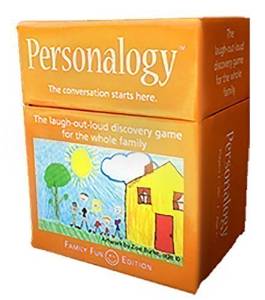 Family Fun This Valentine's Day with Personalogy
One of our new favorite games for Valentine's Day is Personalogy. It's a game tailor made for family fun. They call it "The Laugh-out-loud Discovery Game for the Whole Family", and it really is. It's a discovery card game ideal for family members age 7 and up. It's perfect for game night, holiday gatherings (like our Valentine's Day), reunions, or for when the kids sleep over with Grandma and Grandpa.
What I love about this game is the level of interaction and fun you can have. It has 122 funny, silly questions and surprising answers that promotes family fun and family bonding. It gets us all talking, laughing, and having fun, and isn't that what family game night is all about?
If you're planning a Valentine's Day full of family fun, I encourage you to give Personalogy a try. It's a ton of fun. You can find it on Amazon now. For more information on Personalogy, follow them on Twitter and like them on Facebook.
How do you spend your Valentine's Day? Is it a family fun night or a couples only night? I'd love to hear about your Valentine's Day traditions!