*This is a sponsored post with Chloraseptic. All my opinions are my own and not swayed by outside sources.*
Chloraseptic has been a staple in my life for years. I've been using it since I can remember, and now that they've come out with children's varieties, I use it for my kids, as well. Chloraseptic helps my family cope with sore throats, which helps make our colds and flus much more tolerable. Keeping us cozy is what it's all about, and its easier to do that when out throats aren't on fire.
Cooling Relief for Cozy Winters
When I get a sore throat, it makes my day miserable. I have to go about my business feeling like my throat is lined with barbed wire. Or maybe sand paper. Either way, it's painful. I'm an adult. I can fight through the pain with minimal whining. Notice, I said minimal.
HOWEVER, my children are another story. My kids are normally the most adorable, lovely, kind, considerate little angels in the world. I'm not saying that because I'm their mom. You can ask anyone who knows them. A sore throat does away with all of the beauty and wonder of childhood. When the well of childhood innocence is poisoned with a sore throat, it turns my children into beasts. Monsters which can only be defeated by soothing their sore throats. That's where Chloraseptic comes in. It knocks out their sore throats fast. My little angels come back from the dark side, and we can get back to the important winter work of being cozy, not cranky.
I'll tell you this: it's much more fun being a mom when you can cuddle up next to your little ones rather than trying to avoid their death ray eyes. Yay!
Cozy Relief and Ugly Sweaters
Chloraseptic has always been about cozy relief for my throat and my life, and now it's about even more. Now Chloraseptic is about cozy relief AND super duper ugly sweaters. This is going to be fun. Think about it. Aside from the joy that is sore throat relief, there's nothing better than slipping into your favorite sweater to stay warm and cozy during the cold winter months. And if that sweater is a hideously awesome ugly holiday sweater, that's even better!
Chloraseptic is getting into the holiday sweater spirit, and they want you to come along for the ride. Right now, they're host the ultimate, socially crowd-sourced ugly sweater design contest. They're asking that fans create and share their own ugly sweater designs with festive, funny patterns. When you head to the cozy relief website, you can enter the fun, interactive #CozyRelief ugly sweater contest. There, you can design your own ugly sweater. The grand prize winner's sweater will actually be produced by Chloraseptic!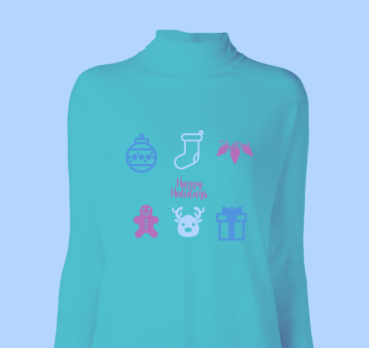 #CozyRelief with Chloraseptic
Chloraseptic is making sure our winters stay cozy with no sore throats and epic ugly sweaters. If you want to keep your throat feeling wonderful, keep the Chloraseptic on hand, and if you want to experience the most epic ugly sweaters, head to the cozy relief website, and make your own. You might even have the winning entry!