*I received a sample for review. All opinions are my own and not swayed by outside sources.*
Anything to make my skin better, I am all for! When Farmhouse Fresh sent me their watermelon basil vodkatini scrub, I was in love! How could you not be with a name like that?!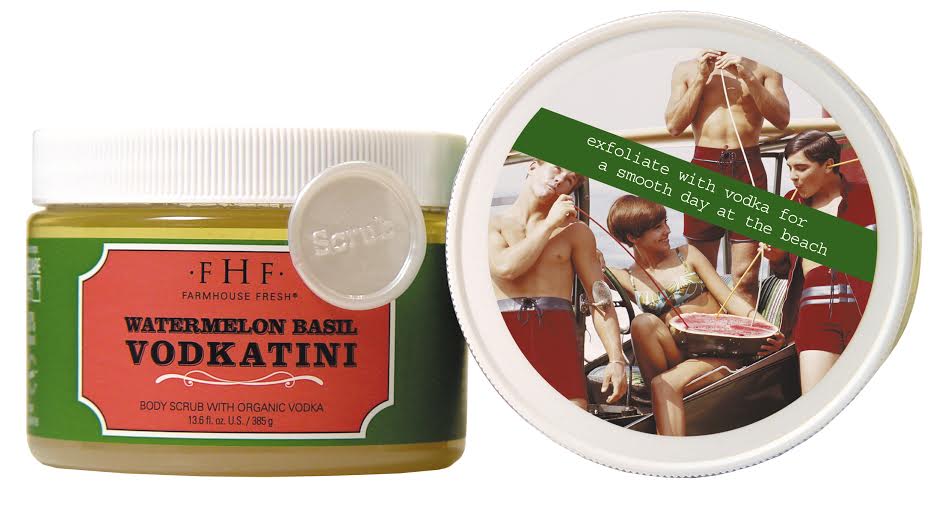 **97% Natural, Vitamin-Rich, Vegan Sugar Scrub Allows Women to Party Hearty
While Exfoliating and Nourishing Skin with Watermelon Seed, Basil, Rice Bran & Cilantro Oils**
The Watermelon Basil Vodkatini Scrub refreshes and renews rough, tired skin with exfoliating sugar crystals and a gourmet blend of hydrating natural oils, combined with an uplifting kick from real premium vodka made by organic spirits distillery SQUARE ONE. Seriously, you might be wondering how it smells and I smell a lot more of the watermelon and basil than the vodka, which I think it a good thing.
Every morning, I use this scrub since I love it so much! It goes on very smoothly on my skin and after a few minutes in the shower, I take it off. Within a week of using it, my skin has felt so smooth. I use to have to do facials once a month to achieve this result, but this is no longer the case with the  Watermelon Basil Vodkatini Scrub!

"This mouthwatering scrub is the quintessential item for a spa party, and what better way to celebrate National Watermelon Day than throwing a mani-pedi party during the heat of summer?," states Shannon McLinden, CEO of FarmHouse Fresh®. "The fragrance captures the essence of the classic sweet cocktail, but there's no next-day hangover. It's time to kick up your heels and join in on the fun!"
I love this scrub and know you will too! Be sure to check it out today! Let's get your skin fall-ready!