Twitter Party Alert! #SummerGoodies
June 2nd, 12:45 – 2:15 pm ET
Prizes $1,450 Walmart GCs!
RSVP for the #SummerGoodies Twitter Party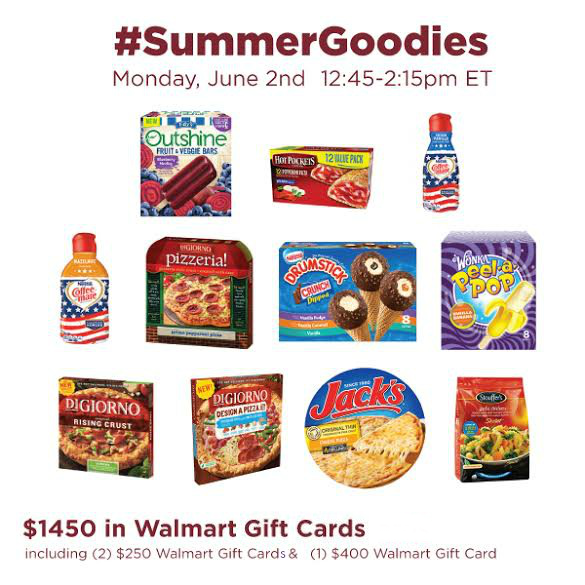 Do you love a good Twitter Party? You know I do and I'm excited to host a party about summer activities and easy summer menus! On Monday, June 2nd, at 12:45 PM ET, please join us for the #SummerGoodies Twitter Party where we'll be discussing ways to spend less time in the kitchen and more time enjoying summer, AND of course, giving you a chance to win prizes! Did you notice THIS PARTY IS 90 MINUTES?! We have so many prizes for this party, we decided to expand it to a SUPER PARTY! The total prize value is $1,450 and it includes a GRAND PRIZE of a $400 Walmart Gift Card!! What would you do with $400 to spend in your favorite Walmart store?
 At the #SummerGoodies Twitter Party we'll be talking about great new favorites from Nestle and how you can use them to make easy but delicious meals for your family. During the summer, easy preparation for meals is key and Nestle knows that! That is why they are helping you to create delicious meals in no time, while allowing you to have free time to do other things besides cooking.  I know I can't wait to try the pizza-on-the-grill, along with their other great options. . Have you tried it yet? And who doesn't love Nestle frozen treats to cool off on a hot summer day.  Be sure to bring that appetite and let's talk about summer treats. Hope to see you there for this great Twitter Party!
Join me and RSVP for #SummerGoodies on SoFabChats!
DATE: Monday, June 2, 2014
TIME: 12:45 pm-2:15 pm ET
Early Bird Prize – $50 Walmart gift card
Party Prizes:
(5) $100 Walmart gift cards
(2) $250 Walmart gift cards
Grand Prize of (1) $400 Walmart gift card!
HOSTS: @KellysLuckyYou, @SweepTight, @dentistmel, @dodomesticdad, @tsue1136
RULES: #SummerGoodies Twitter Party Official Rules
RSVP & PARTY GRID:#SummerGoodies Twitter Party Page
TWEET TO SHARE:
Simple summer meals? #SummerGoodies Twitter Party 6/2 12:45pm ET. Prizes $1450! RSVP/Rules http://t.co/yyOhWbPIsZ #shop

— melissa weintraub (@dentistmel) May 27, 2014
How To Participate In A Twitter Party on SoFabChats!
TIP: How to join a Twitter Party – sign in! Before party starts, click on the green "Sign In On Twitter" bar at the top of the page!
TIP: Who to follow at a Twitter Party? Follow the Party Team by clicking on the Twitter handle links on the RSVP page!
TIP: Want to win Twitter Party prizes? RSVP by clicking on RSVP button before you join the party, follow everyone on the Party Team, and tweet with the party hashtag during the party to be eligible!
TIP: How to win the Early Bird prize? Watch for chance to share a tweet when you RSVP for chance to win!
TIP: Special deals and brand coupons? Keep that options checked when you RSVP for the party!
TIP: New to Twitter parties? Watch your column and Party Team tweet columns – they are slower paced and easier to follow!
TIP: Where to find Twitter Parties? Check out the SoFabChats Twitter Party Calendar to find more fun parties to attend!
Find more helpful Twitter Party Tips on SoFabChats!