Families of Italy, the newest title in the award-winning Families of the World, enables future travelers to reach across the globe and visit other people and cultures, all from a child's point of view. Always focusing on tow children from different households, one urban, one rural, and narrated by children, Families of the World DVDs invite viewers to follow two families' daily routines, introducing both the similarities and differences that exist between them, as well as us.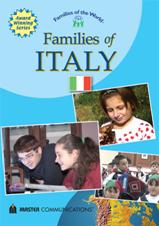 In Families of Italy, we meet Veronica, age 14, who lives on a sheep farm in the Italian countryside with her parents, older brother Antonio and younger sister, Kiara. Cheese is the family business, processing it right on the properly from the milk of their 300 sheep. Kids may envy Veronica a little when they see she sometimes has cookies and milk for breakfast, but maybe not that she attends school six days a week. During the week she helps her mother deliver their cheese to the local stores, often stopping by to visit her grandmother in town. Veronica also helps make the family's favorite desert, tiramisu, for the midday meal, then finishes the 1-2 hours of homework each day. After dad has finished milking the sheep in the evening, he joins the family as they walk through nearby Salerno, admiring the Christmas lights that have been put on display for the season. The next day, Veronica takes us to the nearby ancient ruins, including Pompeii, that lie in the shadow of the massive and quiet, Mt. Vesuvius.
After this week meet 10 year old Luigi, who lives on an olive plantation with his parents, grandparents, and siblings, Antonia and Thomas. It tells of his story and how he attends school from morning to afternoon, then returns home to help around the farm.
Families of the World is an extremely different outlook to the way some families are raised and brought up. It is a beautiful film that will teach about ways in different parts of the world. I highly recommend it. It is recommended for ages 5-11 and retails for $29.95. The series features families in Australia, Afghanistan, Brazil, Canada, China, Cost Rica, Egypt, France, Ghana, Guatemala, India, Israel, Japan, Kenya, Korea, Mexico and more! Each DVD also features a PDF file Teacher's Guide which features script, copy-ready maps, and discussions with activity guides. It would make a perfect present for a teacher. It is a truly interesting way to learn about other areas of the world!
*I received the above product for review purposes. As always, all my opinions are my own and not swayed by outside sources.